Managing at the Speed of Change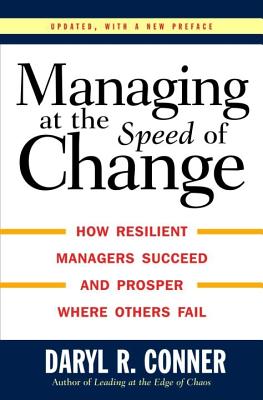 Managing at the Speed of Change
How Resilient Managers Succeed and Prosper Where Others Fail
Random House, Hardcover, 9780679406846, 320pp.
Publication Date: January 19, 1993
* Individual store prices may vary.
Buy at Local Store
Enter your zip code below to purchase from an indie close to you.
or
Buy Here
Description
This classic, newly updated, is an indispensable source for anyone from mid-level managers to CEOs who must execute key business initiatives quickly and effectively. Once groundbreaking and now time-honored, Managing at the Speed of Change has helped countless business leaders learn how to orchestrate transitions vital to their organizations success. Rather than focusing on what to change, this book's aim is far more valuable: It shows readers how to change.
Daryl R. Conner, founder and chairman of the consulting firm Conner Partners, is a leading expert on change management. He has served as change doctor for clients that include non-profit enterprises, government agencies and administrations, and Fortune 500 companies in an array of industries such as Abbott Laboratories, PepsiCo, American Express, Catholic Healthcare West, JPMorgan Chase, and the U.S. Navy.
Based on Conner's long-term research and his decades of consulting experience, Managing at the Speed of Change uses simple, easy-to-understand language and elegant visuals to explore the dynamics of change, and in doing so, teaches readers
why major change is difficult to assimilate
what distinguishes resilient individuals from those who suffer future shock
how and why resistance forms
how people become committed to change
why organizational culture is so important to the success of change
the roles most central to change in organizational settings
why powerful teamwork is at the heart of achieving change objectives, and how to foster it
In this pioneering book, updated for the twenty-first century, Conner demonstrates how both individuals and organizations can develop the capacity not only to endure change but to thrive on it.
About the Author
DARYL R. CONNER is President and CEO of ODR, Inc., a research-based consulting firm based in Atlanta, Georgia, specializing in helping organizations prepare for and implement major change initiatives. As a consultant, executive, and lifelong researcher on the psychology of change, Mr. Conner has, over the past twenty years, devoted himself to understanding the ways in which people and organizations respond to change. He is the author of the international bestseller Managing at the Speed of Change, and he and his ideas have been extensively covered in both professional journals and the popular press, including the New York Times and Business Week.
Praise For Managing at the Speed of Change…
"Through the author's creative and strategic use of storytelling, Managing at the Speed of Change paints a compelling picture: The biggest, most expensive thing that can derail success is resistance to change in all its forms, from arrogance and complacency to fear or ignorance. As an authority on change management, Conner writes a wonderful prescription, providing relief not just in the race for business but on a personal level, too."
–Bob Nardelli, chairman, president, and CEO, The Home Depot

"While many of the concepts in this book's first publication have now become classic, they are every bit as relevant and impactful, especially to an organization for whom change is an imperative."
–Howard Pien, chairman and CEO, Chiron Corporation

"Managing at the Speed of Change provides essential working knowledge for anyone leading or implementing major change. I have been using this material since it was first published, and it is as valuable today as it was then. Daryl Conner's insights are timeless and enduring."
–Valerie Norton, executive director, organizational development, Merck and Company, Inc.

"It is refreshing to finally read a book that contains simple, clear, actionable concepts and ideas that deal with change management and can be used by all levels of management who face today's staggering business realities. I found Mr. Conner's book to be educational, thought-provoking, insightful, and stimulating. He recognizes 'the need for speed.' "
–Lloyd H. Dean, president and CEO, Catholic Healthcare West