Canterbury Tales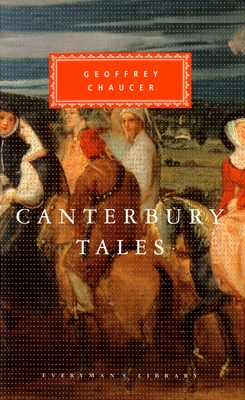 Canterbury Tales
Everyman's Library, Hardcover, 9780679409892, 656pp.
Publication Date: June 1992
* Individual store prices may vary.
Shop Local
Enter your zip code below to find indies closest to you.
Description
The precise, unerring, delicately emphatic characterizations for which "The Canterbury Tales" is so famous are no more extraordinary than Chaucer's utter mastery of English rhythms and his effortless versification. Ranging from animal fables to miniature epics of courtly love and savagely hilarious comedies of sexual comeuppance, these stories told by pilgrims on the way to the shrine of Thomas a Becket in Canterbury reveal a teeming, vital fourteenth-century English society on the verge of its Renaissance.
These tales bring together a band of pilgrims who represented most of the occupations and social groups of the time. The diversity of the narrators in turn made possible a varied collection of tales including chivalric romance, spiritual allegory, courtly lay, beast fable and literary satire.
(Book Jacket Status: Jacketed)
About the Author
Often referred to as the father of English poetry, Geoffrey Chaucer was a fourteenth-century philosopher, alchemist, astrologer, bureaucrat, diplomat, and author of many significant poems. Chaucer s writing was influential in English literary tradition, as it introduced new rhyming schemes and helped develop the vernacular traditionthe use of everyday Englishrather than the literary French and Latin, which were common in written works of the time. Chaucer s best-knownand most imitatedworks include The Canterbury Tales, Troilus and Criseyde, The Book of the Duchess, and The House of Fame.
Derek Pearsall is the Gurney Professor of English at Harvard University and was Professor and Co-Director of the Centre for Medieval Studies at the University of York, 1965-85.
Duncan Wu is a Fellow of St Catherine's College, Oxford, and University Lecturer in English Literature.
Praise For Canterbury Tales…
"The Canterbury Tales was written . . . during what the Middle Ages would have considered Chaucer's old age . . . It is a quite astonishing production . . . [He was] free to experiment with narrative in a more audacious way, to challenge orthodoxies old and yet to be formulated, and to explore, exploit, enrich and subvert all the many available kinds of medieval story." –from the Introduction by Derek Pearsall