Silas Marner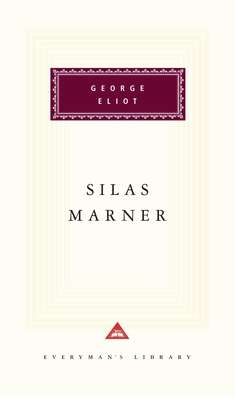 Silas Marner
Everyman's Library, Hardcover, 9780679420309, 248pp.
Publication Date: March 9, 1993
* Individual store prices may vary.
Buy Now
or
Shop Local
Enter your zip code below to purchase from an indie close to you.
Description
When Silas Marner is wrongly accused of crime and expelled from his community, he vows to turn his back upon the world. He moves to the village of Raveloe, where he remains an outsider and an object of suspicion until an extraordinary sequence of events, including the theft of his gold and the appearance of a tiny, golden-haired child in his cottage, transforms his life. Part beautifully realized rural portraiture and part fairy tale, the story of Marner's redemption and restoration to humanity has long been George Eliot's most beloved and widely read work.

The isolated, misanthropic, miserly weaver Silas Marner is one of George Eliot's greatest creations, and his presence casts a strange, otherworldly glow over the moral dramas, both large and small, that take place in the pastoral landscape that surrounds him.

Introduction by Rosemary Ashton

(Book Jacket Status: Jacketed)
About the Author
George Eliot was the pseudonym for Mary Anne Evans, one of the leading writers of the Victorian era, who published seven major novels and several translations during her career. She started her career as a sub-editor for the left-wing journal The Westminster Review, contributing politically charged essays and reviews before turning her attention to novels. Among Eliot s best-known works are Adam Bede, The Mill on the Floss, Silas Marner, Middlemarch and Daniel Deronda, in which she explores aspects of human psychology, focusing on the rural outsider and the politics of small-town life. Eliot died in 1880.

Rosemary Ashton is Professor of English at University College, London. Her books include "The German Idea" (1980), "George Eliot" (1983), "Little Germany" (1986) and "G.H. Lewes: A life" (1991).
Praise For Silas Marner…
"More strikingly than in any other novel, George Eliot combines pastoral, symbolic, legendary elements with a rooted local setting and an evocation of ordinary lives and credible moral choices. It is a fine Shakespearian-Wordsworthian story of loss and restoration . . . Silas Marner is a compound of English life rendered with 'rich density of detail,' as Henry James described it, and the imaginative patterning of romance and myth."
—from the Introduction by Rosemary Ashton

"I think Silas Marner holds a higher place than any of the author's works. It is more nearly a masterpiece; it has more of that simple, rounded, consummate aspect. . .which marks a classical work."
—Henry James