A Tale of Two Cities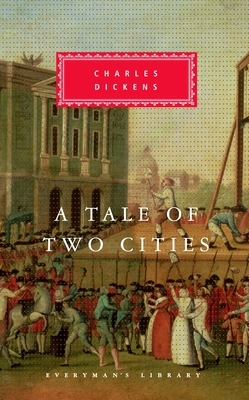 A Tale of Two Cities
Everyman's Library, Hardcover, 9780679420736, 480pp.
Publication Date: February 23, 1993
* Individual store prices may vary.
Buy Now
or
Shop Local
Enter your zip code below to purchase from an indie close to you.
Description
Lucie Manette had been separated from her father for eighteen years while he languished in Paris's most feared prison, the Bastille. Finally reunited, the Manettes's fortunes become inextricably intertwined with those of two men, the heroic aristocrat Darnay, and the dissolute lawyer, Carton. Their story, which encompasses violence, revenge, love and redemption, is grippingly played out against the backdrop of the terrifying brutality of the French Revolution.

A Tale of Two Cities begins on a muddy English road in an atmosphere charged with mystery and drama, and it ends in the Paris of the French Revolution with one of the most famous acts of self-sacrifice in literature. In between lies one of Charles Dickens's most exciting books– a historical novel that, generation after generation, has given readers access to the profound human dramas that lie behind cataclysmic social and political events.

Famous for the character of Sydney Carton, who sacrifices himself upon the guillotine–"It is a far, far better thing that I do, than I have ever done"–the novel is also a powerful study of crowd psychology and the dark emotions aroused by the Revolution, and is illuminated by Dickens's lively comedy.

This edition reprints the original Everyman introduction by G. K. Chesterton and includes sixteen illustrations by Phiz.

(Book Jacket Status: Jacketed)
 


About the Author
Arguably one of the greatest writers of the Victorian era, Charles Dickens is the author of such literary masterpieces as A Tale of Two Cities (1859), A Christmas Carol (1843), David Copperfield (1850), and The Adventures of Oliver Twist (1839), among many others. Dickens' s indelible characters and timeless stories continue to resonate with readers around the world more than 130 years after his death. Dickens was born in 1812 and died in 1870.

Simon Schama is University Professor of Art History and History at Columbia University in New York. His award-winning books include Scribble, Scribble, Scribble; The American Future: A History; National Book Critics Circle Award winner Rough Crossings; The Power of Art; The Embarrassment of Riches: An Interpretation of Dutch Culture in the Golden Age; Citizens: A Chronicle of the French Revolution; Dead Certainties (Unwarranted Speculations); Landscape and Memory; Rembrandt's Eyes; and the History of Britain trilogy. He has written and presented forty television documentary films for the BBC, PBS, and The History Channel, including the Emmy-winning Power of Art, on subjects that range from John Donne to Tolstoy.
Praise For A Tale of Two Cities…
"[A Tale of Two Cities] has the best of Dickens and the worst of Dickens: a dark, driven opening, and a celestial but melodramatic ending; a terrifyingly demonic villainess and (even by Dickens' standards) an impossibly angelic heroine. Though its version of the French Revolution is brutally simplified, its engagement with the immense moral themes of rebirth and terror, justice, and sacrifice gets right to the heart of the matter . . . For every reader in the past hundred and forty years and for hundreds to come, it is an unforgettable ride."–from the Introduction by Simon Schama