Heart of Darkness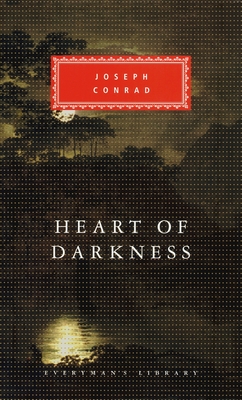 Heart of Darkness
Everyman's Library, Hardcover, 9780679428015, 144pp.
Publication Date: October 26, 1993
* Individual store prices may vary.
Buy at Local Store
Enter your zip code below to purchase from an indie close to you.
or
Buy Here
Description
In a novella which remains highly controversial to this day, Conrad explores the relations between Africa and Europe. On the surface, this is a horrifying tale of colonial exploitation. The narrator, Marlowe journeys on business deep into the heart of Africa. But there he encounters Kurtz, an idealist apparently crazed and depraved by his power over the natives, and the meeting prompts Marlowe to reflect on the darkness at the heart of all men. This short but complex and often ambiguous story, which has been the basis of several films and plays, continues to provoke interpretation and discussion.
"Heart of Darkness" grew out of a journey Joseph Conrad took up the Congo River; the verisimilitude that the great novelist thereby brought to his most famous tale everywhere enhances its dense and shattering power.
Apparently a sailor's yarn, it is in fact a grim parody of the adventure story, in which the narrator, Marlow, travels deep into the heart of the Congo where he encounters the crazed idealist Kurtz and discovers that the relative values of the civilized and the primitive are not what they seem. "Heart of Darkness" is a model of economic storytelling, an indictment of the inner and outer turmoil caused by the European imperial misadventure, and a piercing account of the fragility of the human soul.
(Book Jacket Status: Jacketed)
About the Author
Polish author Joseph Conrad is considered to be one of the greatest English-language novelists, a remarkable achievement considering English was not his first language. Conrad s literary works often featured a nautical setting, reflecting the influences of his early career in the Merchant Navy, and his depictions of the struggles of the human spirit in a cold, indifferent world are best exemplified in such seminal works as Heart of Darkness, Lord JimM, The Secret Agent, Nostromo, and Typhoon. Regarded as a forerunner of modernist literature, Conrad s writing style and characters have influenced such distinguished writers as F. Scott Fitzgerald, Ernest Hemingway, William S. Burroughs, Hunter S. Thompson, and George Orwell, among many others. Many of Conrad s novels have been adapted for film, most notably Heart of Darkness, which served as the inspiration and foundation for Francis Ford Coppola s 1979 film Apocalypse Now.

Verlyn Klinkenborg comes from a family of Iowa farmers and is the author of Making Hay, The Last Fine Time, The Rural Life, Timothy, and Several Short Sentences About Writing. A member of the editorial board of the New York Times, he has written for The New Yorker, Harper's, Esquire, National Geographic, Mother Jones, and the New York Times Magazine, among others. He teaches creative writing at Yale University and Pomona College and lives on a small farm in upstate New York.

Catherine Coulter is the author of more than seventy novels, including sixty-six New York Times bestsellers. She earned her reputation writing historical romances, then began writing suspense thrillers, including her bestselling FBI series. She lives with her husband and three cats in Marin County, California.