Fear and Trembling and the Book on Adler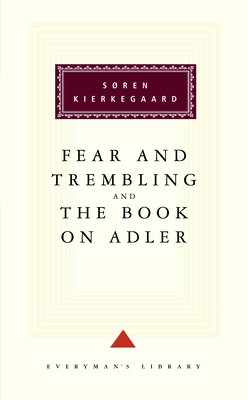 Fear and Trembling and the Book on Adler
Everyman's Library, Hardcover, 9780679431305, 352pp.
Publication Date: May 10, 1994
* Individual store prices may vary.
Buy at Local Store
Enter your zip code below to purchase from an indie close to you.
or
Not Currently Available for Direct Purchase
Description
Now recognized as one of the nineteenth century's leading psychologists and philosophers, Kierkegaard was among other things the harbinger of exisentialisim. In Fear and Trembling he explores the psychology of religion, addressing the question 'What is Faith?' in terms of the emotional and psychological relationship between the individual and God. But this difficult question is addressed in the most vivid terms, as Kierkegaard explores different ways of interpreting the ancient story of Abraham and Isaac to make his point.
Soren Kierkegaard not only transformed Protestant theology but also anticipated twentieth-century existentialism and provided it with many of its motifs. Fear and Trembling and The Book on Adler addressed to a general audience have the imaginative excitement and intense personal appeal of the greatest literature. Only Plato and Nietzsche have matched Kierkegaard's ability to give ideas so compellingly vivid and dramatic a shape.
Translated by Walter Lowrie.
About the Author
Danish-born Scentsren Kierkegaard (1813-55) wrote on a wide variety of themes, including religion, psychology, and literature. He is remembered for his philosophy, which was influential in the development of 20th century existentialism. Alastair Hannay is Professor of Philosophy at the University of Oslo. He is co-editor of the Cambridge Companion to Kierkegaard and has translated Kierkegaard's Fear and Trembling, The Sickness unto Death, Either/Or, and Papers and Journals for Penguin Classic
Praise For Fear and Trembling and the Book on Adler…
"Fear and Trembling is among the best-known and influential works in nineteenth- and twentieth-century philosophic theology and literature . . . The Book on Adler [is] one of the dark jewels in the history of philosophic psychology. As an examiner of the lives of the mind, of the associative pulses of the imagination, Kierkegaard has only two peers. His inquisition into Adler stands beside those descents into the deeps of the human psyche performed by Dostoevsky and by Nietzsche." –from the Introduction by George Steiner