Histories, Vol. 2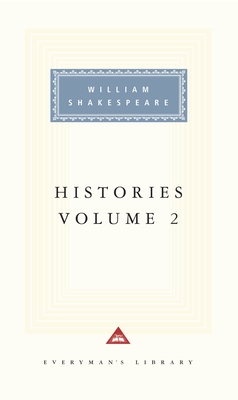 Histories, Vol. 2
Volume 2
Everyman's Library, Hardcover, 9780679436508
Publication Date: November 1994
* Individual store prices may vary.
Shop Local
Enter your zip code below to find indies closest to you.
Description
William Shakespeare arrived at his splendid maturity as an artist in his second cycle of history plays. With their superb battle scenes; their magnificent major and minor characters; their stories of ambition, usurpation, guilt, and redemption; and their profound ideas about the social order, these plays represent the Elizabethan historical drama in its full glory. And thanks to parts one and two of Henry IV our literature is graced—in the figure of the dissolute and boastful knight Sir John Falstaff—with one of the greatest comic creations in the history of the stage.

This volume contains Richard II; Henry IV, Part One; Henry IV, Part Two; Henry V; and Henry VIII. The texts, authoritatively edited by Sylvan Barnet, are supplemented with textual notes, a bibliography, a detailed chronology of Shakespeare's life and times, a helpful family tree of the Houses of Lancaster and York, and a substantial introduction in which acclaimed scholar Tony Tanner discusses each play individually and in the context of Shakespeare's oeuvre.

About the Author
Keith Hale is author of the novels Clicking Beat on the Brink of Nada and Letters to a Shooting Star. He has edited an anthology of gay literature from antiquity through the First World War (Ode to Boy), a collection of Lord Byron's love poetry for boys (Edleston), a collection of Rupert Brooke's letters that had been sealed for eighty years due to their homosexual themes (Friends and Apostles), a collection of Georgian Poetry, and editions of poetry by Shakespeare, Housman, and Brooke. Hale wrote the first and perhaps only account of gay life in the Balkans before the walls of Communism crumbled in his travelogue In the Land of Alexander, and he explored how the military's ban on gays affected the life of one ROTC cadet in his book Torn Allegiances. Hale is a native of Mayflower, Arkansas, and also has made his home in Austin, Amsterdam, and Guam.

Tony Tanner was Professor of English and American Literature at the University of Cambridge.