Comedies, Vol. 1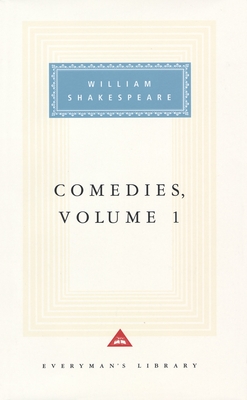 Comedies, Vol. 1
Volume 1
Everyman's Library, Hardcover, 9780679443636, 800pp.
Publication Date: July 10, 1995
* Individual store prices may vary.
Buy at Local Store
Enter your zip code below to purchase from an indie close to you.
or
Not Currently Available for Direct Purchase
Description
Shakespeare forged his tremendous art in the crucible of his comic imagination, which throughout his life enveloped and contained his tragic one. His early comedies with their baroque poetic exuberance, intense theatricality, explosive bursts of humor, and superbly concrete realizations of the dialects of love capture as in a chrysalis all that he was to become. They provide a complete inventory of the mind of our greatest writer in the middle of his golden youth.
This volume contains "The Comedy of Errors," "The Taming of the Shrew," "The Two Gentlemen of Verona," "Love's Labor's Lost," "A Midsummer Night's Dream," and it's companion piece, "Romeo and Juliet," which Tony Tanner describes in his introduction as "a tragedy by less than one minute." The texts, authoritatively edited by Sylvan Barnet, are supplemented with textual notes, bibliographies, a detailed chronology of Shakespeare's life and times, and a substantial introduction in which Tanner discusses each play individually and in the context of Shakespeare's oeuvre.
(Book Jacket Status: Jacketed)
About the Author
Arguably the greatest English-language playwright, William Shakespeare was a seventeenth-century writer and dramatist, and is known as the Bard of Avon. Under the patronage of Queen Elizabeth I, he penned more than 30 plays, 154 sonnets, and numerous narrative poems and short verses. Equally accomplished in histories, tragedies, comedy, and romance, Shakespeare s most famous works include Romeo and Juliet, Hamlet, Macbeth, King Lear, The Taming of the Shrew, and As You Like It.
Like many of his contemporaries, including Christopher Marlowe, Shakespeare began his career on the stage, eventually rising to become part-owner of Lord Chamberlain s Men, a popular dramatic company of his day, and of the storied Globe Theatre in London.
Extremely popular in his lifetime, Shakespeare s works continue to resonate more than three hundred years after his death. His plays are performed more often than any other playwright s, have been translated into every major language in the world, and are studied widely by scholars and students.
Tony Tanner was Professor of English and American Literature at the University of Cambridge.