Rabbit Angstrom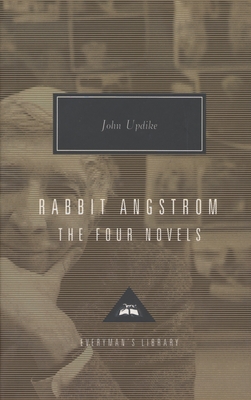 Rabbit Angstrom
The Four Novels: Rabbit, Run, Rabbit Redux, Rabbit Is Rich, and Rabbit at Rest
Everyman's Library, Hardcover, 9780679444596, 1568pp.
Publication Date: October 17, 1995
* Individual store prices may vary.
Buy at Local Store
Enter your zip code below to purchase from an indie close to you.
or
Not Currently Available for Direct Purchase
Description
When we first met him in Rabbit, Run (1960), the book that established John Updike as a major novelist, Harry (Rabbit) Angstrom is playing basketball with some boys in an alley in Pennsylvania during the tail end of the Eisenhower era, reliving for a moment his past as a star high school athlete. Athleticism of a different sort is on display throughout these four magnificent novels—the athleticism of an imagination possessed of the ability to lay bare, with a seemingly effortless animal grace, the enchantments and disenchantments of life.

Updike revisited his hero toward the end of each of the following decades in the second half of this American century; and in each of the subsequent novels, as Rabbit, his wife, Janice, his son, Nelson, and the people around them grow, these characters take on the lineaments of our common existence. In prose that is one of the glories of contemporary literature, Updike has chronicled the frustrations and ambiguous triumphs, the longuers, the loves and frenzies, the betrayals and reconciliations of our era. He has given us our representative American story.

This Rabbit Angstrom volume is comprised of the following novels: Rabbit, Run; Rabbit Redux; Rabbit is Rich; and Rabbit at Rest.
About the Author
John Updike was born in 1932, in Shillington, Pennsylvania. He graduated from Harvard College in 1954, and spent a year in Oxford, England, at the Ruskin School of Drawing and Fine Art. From 1955 to 1957 he was a member of the staff of The New Yorker, and since 1957 has lived in Massachusetts. He is the author of fifty-odd previous books, including twenty novels and numerous collections of short stories, poems, and criticism. His fiction has won the Pulitzer Prize, the National Book Award, the American Book Award, the National Book Critics Circle Award, the Rosenthal Award, and the Howells Medal.
Praise For Rabbit Angstrom…
FROM THE INTRODUCTION BY THE AUTHOR written especially for this edition:
"The character of Harry 'Rabbit' Angstrom was for me a way in-a ticket to the America all around me … [These four related novels] became a kind of running report on the state of my hero and his nation . . . A some point between the second and third of the series, I began to visualize four completed novels that might together make a single coherent volume, a mega-novel. Now, thanks to Everyman's Library, this volume exists, titled, as I had long hoped, with the name of the protagonist, an everyman who, like all men, was unique and mortal."

"Taken together, this quartet of novels has given its readers a wonderfully vivid portrait of one Harry (Rabbit) Angstrom . . . The books have also created a Kodachrome-sharp picture of American life . . . from the somnolent 50s . . . into the uncertainties of the 80s."
—THE NEW YORK TIMES

"The being that most illuminates the Rabbit quartet is not finally Harry Angstrom himself but the world through which he moves in his slow downward slide, meticulously recorded by one of the most gifted American realists . . . The Rabbit novels, for all their grittiness, constitute John Updike's surpassingly eloquent valentine to his country."
—Joyce Carol Oates, THE NEW YORK TIMES BOOK REVIEW