Comedies, Vol. 2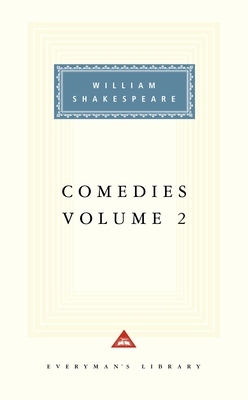 Comedies, Vol. 2
Volume 2
Everyman's Library, Hardcover, 9780679447207, 2pp.
Publication Date: April 16, 1996
* Individual store prices may vary.
Buy Now
or
Shop Local
Enter your zip code below to purchase from an indie close to you.
Description
Shakespeare's later comedies were written at the astonishing pace of about two plays a year. In them, he moves beyond the farce of his earlier comedies to richer and more varied dramas. These range from the famous problem plays, which blend humor with tragedy, to the idyllic romances set in such timeless locales as the Forest of Arden. They contain some of his wittiest and most memorable characters, from cross-dressing heroines, bantering lovers, and wisecracking fools to the villainous but sympathetic Shylock and the boisterous and bawdy Falstaff.
This volume contains "The Merchant of Venice," "The Merry Wives of Windsor," "Much Ado About Nothing," "As You Like It," "Twelfth Night," "All's Well That Ends Well," and "Measure for Measure." The authoritatively edited text of the plays is supplemented with footnotes, bibliographies, a detailed chronology of Shakespeare's life and times, and a substantial introduction in which Tony Tanner discusses each play individually and in the context of Shakespeare's work.
(Book Jacket Status: Jacketed)

About the Author
Arguably the greatest English-language playwright, William Shakespeare was a seventeenth-century writer and dramatist, and is known as the Bard of Avon. Under the patronage of Queen Elizabeth I, he penned more than 30 plays, 154 sonnets, and numerous narrative poems and short verses. Equally accomplished in histories, tragedies, comedy, and romance, Shakespeare s most famous works include Romeo and Juliet, Hamlet, Macbeth, King Lear, The Taming of the Shrew, and As You Like It.
Like many of his contemporaries, including Christopher Marlowe, Shakespeare began his career on the stage, eventually rising to become part-owner of Lord Chamberlain s Men, a popular dramatic company of his day, and of the storied Globe Theatre in London.
Extremely popular in his lifetime, Shakespeare s works continue to resonate more than three hundred years after his death. His plays are performed more often than any other playwright s, have been translated into every major language in the world, and are studied widely by scholars and students.