The Inn at Little Washington Cookbook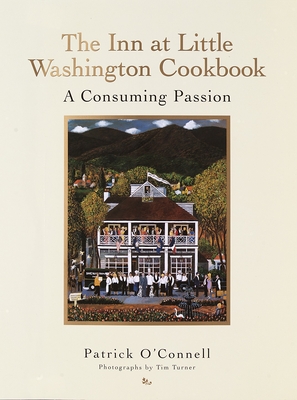 The Inn at Little Washington Cookbook
A Consuming Passion
Random House, Hardcover, 9780679447368, 208pp.
Publication Date: November 19, 1996
* Individual store prices may vary.
Buy at Local Store
Enter your zip code below to purchase from an indie close to you.
or
Buy Here
Description
This cookbook is the distillation of a life's work by a self-taught American chef who learned to cook by reading cookbooks and went on to become one of the world's most renowned chefs. O'Connell began his career with a catering business in an old farmhouse, cooking on a wood stove with an electric frying pan purchased for $1.49 at a garage sale. (The pan was used for boiling, sauteeing and deep frying for parties of up to 300 guests.) This experience sharpened his awareness of how much could be done with very little. The catering business evolved into a country restaurant and Inn which opened in 1978 in a defunct garage and which is now America's only 5 star Inn. Craig Claiborne raves, "the most magnificent inn I've ever seen, in this country or Europe, where I had the most fantastic meal of my life."
This is not a typical "Chef's Cookbook" filled with esoteric, egomanical, and impossibly complicated recipes which only a wizard with a staff of eighty would ever attempt to produce. Rather, the recipes assembled here make up a practiced, finely honed repertoire of elegant, simple and straight-forward dishes. Everyday ingredients are elevated to new heights through surprising combinations and seductive presentations. ]A Consuming Passion ] propels the home cook into a new world of American Haute Cuisine and provides the formulas for reproducing it at home. Careful and detailed instructions, all written by the author, assure success.
Tim Turner's luscious photographs capture the playful but elegant spirit of the food and introduce the reader to some of the charming local characters who provide products for the Inn's kitchen as well as taking the reader on a delightful and romantic culinary journey throughout the Virginia countryside surrounding the small town affectionately known as "Little" Washington and reveals an America we thought was lost forever.
About the Author
A native of Washington D.C., Patrick O'Connell began his culinary career at the age of fifteen, working in a neighborhood restaurant after school. As a drama student at Catholic University of America, he financed his education working as a waiter. In 1972, together with Reinhardt Lynch, O'Connell began a catering enterprise in the Shenandoah Valley that eventually evolved into The Inn at Little Washington. A member of the prestigious Paris-based Relais and Chateau Association, The Inn received the first perfect score in the history of the Zagat rating system. The James Beard Awards named Patrick O'Connell Best Chef of the Mid-Atlantic region in 1993 and selected The Inn at Little Washington as Restaurant of the Year. O'Connell was one of the original inductees into "Who's Who of Food and Beverage in America." He lives in Washington, Virginia. Tim Turner is a preeminent food photographer. His previous books include Charlie Trotter's and Vegetables also by Charlie Trotter. His photographs have appeared in Food and Wine, Bon Appetit and Ladies' Home Journal, among other publications, as well as numerous advertisements.