Seven Ages of Paris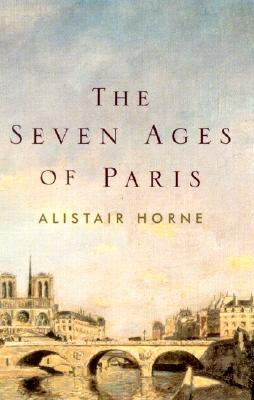 Seven Ages of Paris
Knopf, Hardcover, 9780679454816, 480pp.
Publication Date: November 12, 2002
* Individual store prices may vary.
Not Currently Available for Direct Purchase
or
Shop Local
Enter your zip code below to purchase from an indie close to you.
Description
When Paris was a small island in the middle of the Seine, its gentle climate, natural vineyards and overhanging fig trees made it the favorite retreat of Roman emperors and de facto capital of western Europe. Over two millennia the muddy Lutetia, as the Romans called Paris, pushed its borders far beyond the Right and Left Banks and continued to stretch into the imagination and affection of visitors and locals. Now the spirit of Paris is captured by the celebrated historian Alistair Horne, who has devoted twenty-five years to a labor of love.

Seven Ages of Paris begins with the reign of the forceful Philippe Auguste, who greatly expanded the Capetian kingdom before devoting himself to fortifying the city and to the construction of the Louvre. Paris shed blood in the Hundred Years War and in the religious wars between Catholics and Huguenots and prospered under Henri IV's reconciliation. His grandson, Louis XIV, built the famed palace at Versailles and patronized the playwrights Molière and Racine. With the ancien régime swept away by the Revolution, Napoleon ushered in the Imperial age, and, subsequently, the Second Empire. Partly to dampen Paris's revolutionary zeal, Baron Haussmann modernized the city: avenues were widened, squares expanded and the medieval market at Les Halles razed.

Horne portrays the Prussians bivouacking on the Champs-Elysées in 1871. Paris bounced back after the war: the 1900 World Exposition showed off an electrified Champs-Elysées and the Métro station entrances in the Art Nouveau style. Most visibly, the Eiffel Tower went up in 1889 to mark the hundredth anniversary of the Revolution.

The hubris of the Belle Epoque led straight into the Great War. The Armistice and the Paris Peace Conference sealed a phoney peace, and when war resumed the city suffered four terrible years of occupation and was visited by Hitler himself. Liberation brought the last of Horne's seven ages, the Fifth Republic, headed by de Gaulle.
Seven Ages of Paris also recalls the women who defined Parisian life—from Héloïse down to Josephine Baker. With an elegiac description of the Père Lachaise Cemetery, Horne brings to an end a brilliantly written history of the world's most captivating city.
About the Author
Alistair Horne is a journalist, historian and author of seventeen previous books, including A Savage War of Peace: Algeria 1954–1962, The Price of Glory: Verdun 1916, How Far from Austerlitz?: Napoleon 1805–1815, and the official biography of British prime minister Harold Macmillan. He is a fellow at St. Antony's College, Oxford, and was educated at Millbrook School, New York. He lives in England.
Praise For Seven Ages of Paris…
"Knowledgeable and colorful, written with gusto and love. . . . [An] ambitious and skillful narrative that covers the history of Paris with considerable brio and fervor"—The Los Angeles Times Book Review

"Consistently bewitching. . . . [Horne] renders France unusually vivid by focusing on the one corner of it that millions of foreigners have toured or lived in or dreamed about." --The New York Times Book Review

"Horne gives readers a wonderful sense of everyday life in Paris at every turn and displays a convincing understanding of the Parisian character." –San Francisco Chronicle

"A fluid, graceful, deliberate prose stylist. . . . Horne's purpose is not to be encyclopedic but to paint a portrait, and this he does surpassingly well." –The Washington Post Book World