Moby Dick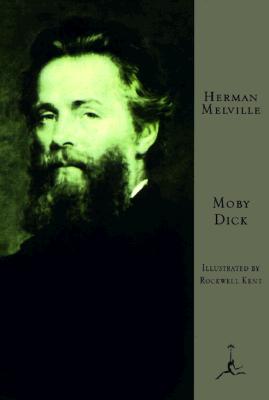 Moby Dick
Or the Whale
Modern Library, Hardcover, 9780679600107, 864pp.
Publication Date: September 5, 1992
* Individual store prices may vary.
Shop Local
Enter your zip code below to find indies closest to you.
Description
"As a revelation of human destiny it is too deep even for sorrow," was how D.H. Lawrence characterized MOBY-DICK. Published in the same five-year span as "The Scarlet Letter," "Walden," and "Leaves of Grass," this great adventure of the sea and the life of the soul is the ultimate achievement of that stunning period in American letters.
(Book Jacket Status: Jacketed)
About the Author
Herman Melville's reputation was immediately established in 1846 with the publication of his first novel, Typee, yet for the most part he lived in near-seclusion and died in relative obscurity for a man of his talents. He wasn't fully appreciated until the 20th century. The conservative religious Americans of his day didn't trust him: his unorthodoxy regarding religion, his South Seas travels, his cynicism, his bitter criticism of the hypocrisy of missionaries, and his satires of religion and religious figures made him an outcast. Today, however, some critics claim that only Dostoyevsky is his equal among 19th century writers. At seventeen, he became a merchant seaman, sailing first to Liverpool, where the sexual activity at the docks at first shocked him but then opened up a new world for him, for he was attracted to men. At age twenty-one, he sailed to the South Pacific. Four novels came from this experience: Typee, Omoo, Mardi, and White Jacket. Another early novel, Redburn, is set primarily aboard ship. Philosophically, the strength of his early novels is his disdain for the white man trying to force civilization onto a people who were blissfully happy without it. He particularly objected to the indoctrination of religion. All of the books contain an undeniable homoeroticism. Melville moved to the countryside to write Moby Dick. The novel is an adventure story and a tale of revenge, but it is also an audacious experiment. The reaction from critics was so harsh that from the publication of Moby Dick in 1851 until about 1938, Melville was not afforded much respect among scholars. In 1852, Melville published Pierre, which is autobiographical in its anatomy of the despair Melville was feeling at the rejection of Moby Dick. Pierre was scandalous for its day, almost as if Melville were thumbing his nose at society. Melville was now only thirty-two but considered a failed writer. His next story was refused for publication, so he retired and lived in relative obscurity for the remainder of his days. When he died, however, he left Billy Budd, which some critics think the equal of Moby Dick.

ROCKWELL KENT (1872 - 1971) is perhaps best known for his illustrations for The Complete Works of William Shakespeare and Moby Dick. Kent also created the "random house" that, despite revision throughout the years, has been the colophon of that company since its inception in 1928. Kent's other travel books include N by E, Wilderness, and Voyaging, all reissued by Wesleyan/UPNE.
DOUG CAPRA teaches English in Seward, Alaska, where he has lived since 1971. He has written two books on Seward history and spent many years researching and writing about Kent in Alaska. His articles on Kent have appeared in such publications as Alaska Magazine and The Kent Collector.