The Brothers Karamazov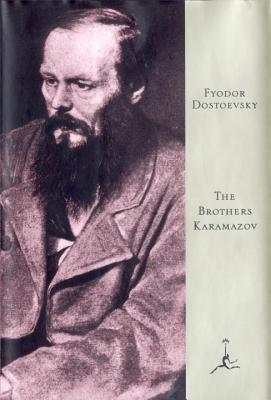 The Brothers Karamazov
Modern Library, Hardcover, 9780679601814, 912pp.
Publication Date: January 23, 1996
* Individual store prices may vary.
Buy at Local Store
Enter your zip code below to purchase from an indie close to you.
or
Buy Here
Description
The Brothers Karamazov, Dostoevsky's crowning achievement, is a tale of patricide and family rivalry that embodies the moral and spiritual dissolution of an entire society (Russia in the 1870s). It created a national furor comparable only to the excitement stirred by the publication, in 1866, of Crime and Punishment. To Dostoevsky, The Brothers Karamazov captured the quintessence of Russian character in all its exaltation, compassion, and profligacy. Significantly, the book was on Tolstoy's bedside table when he died. Readers in every language have since accepted Dostoevsky's own evaluation of this work and have gone further by proclaiming it one of the few great novels of all ages and countries.
"The Brothers Karamazov stands as the culmination of Dostoevsky's art--his last, longest, richest, and most capacious book," said The Washington Post Book World.
"Nothing is outside Dostoevsky's province," observed Virginia Woolf. "Out of Shakespeare there is no more exciting reading."

The Modern Library has played a significant role in American cultural life for the better part of a century. The series was founded in 1917 by the publishers Boni and Liveright and eight years later acquired by Bennett Cerf and Donald Klopfer. It provided the foun-dation for their next publishing venture, Random House. The Modern Library has been a staple of the American book trade, providing readers with affordable hard-bound editions of important works of liter-ature and thought. For the Modern Library's seventy-fifth anniversary, Random House redesigned the series, restoring as its emblem the running torchbearer created by Lucian Bernhard in 1925 and refurbishing jackets, bindings, and type, as well as inau-gurating a new program of selecting titles. The Modern Library continues to provide the world's best books, at the best prices.
About the Author


Fyodor Dostoyevsky was a Russian novelist, short story writer and essayist whose literary works explored human psychology in the troubled political, social, and spiritual context of nineteenth-century Russia. A student of the Nikolayev Military Engineering Institute, Dostoyevsky initially worked as an engineer, but began translating books to earn extra money. The publication of his first novel, Poor Folk, allowed him to join St. Petersburg s literary circles. A prolific writer, Dostoyevsky is best known for work from the latter part of his career, including the classic novels Crime and Punishment, The Idiot and The Brothers Karamazov. Dostoyevsky s influence extends to authors as diverse as Anton Chekhov, James Joyce, Ernest Hemingway, and Jean-Paul Sartre, among many others. He died in 1881.

Nikolai Gogol (1809-1852) was a novelist and political satirist. The author of "Dead Souls" and "The Overcoat", he was one of Russia's greatest writers.
Praise For The Brothers Karamazov…
"[Dostoevsky is] at once the most literary and compulsively readable of novelists we continue to regard as great . . . The Brothers Karamazov stands as the culmination of his art–his last, longest, richest, and most capacious book. [This] scrupulous rendition can only be welcomed. It returns us to a work we thought we knew, subtly altered and so made new again." –Washington Post Book World

"A miracle . . . Every page of the new Karamazov is a permanent standard, and an inspiration." –The Times (London)

"One finally gets the musical whole of Dostoevsky's original." –New York Times Book Review

"Absolutely faithful . . . Fulfills in remarkable measure most of the criteria for an ideal translation . . . The stylistic accuracy and versatility of registers used . . . bring out the richness and depth of the original in a way similar to a faithful and sensitive restoration of a painting." –The Independent

"It may well be that Dostoevsky's [world], with all its resourceful energies of life and language, is only now–and through the medium of [this] new translation–beginning to come home to the English-speaking reader." –New York Review of Books

"Heartily recommended to any reader who wishes to come as close to Dostoevsky's Russian as it is possible." –Joseph Frank, Princeton University

With an Introduction by Malcolm V. Jones