The Red Badge of Courage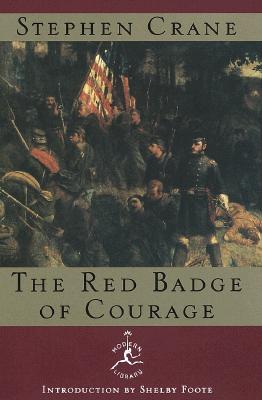 The Red Badge of Courage
An Episode of the American Civil War
Modern Library, Hardcover, 9780679602965, 304pp.
Publication Date: March 24, 1998
* Individual store prices may vary.
Buy at Local Store
Enter your zip code below to purchase from an indie close to you.
or
Not Currently Available for Direct Purchase
Description
The Red Badge of Courage was published in 1895, when its author, an impoverished writer living a bohemian life in New York, was only twenty-three. It immediately became a bestseller, and Stephen Crane became famous. Crane set out to create "a psychological portrayal of fear." Henry Fleming, a Union Army volunteer in the Civil War, thinks "that perhaps in a battle he might run....As far as war was concerned he knew nothing of himself." And he does run in his first battle, full of fear and then remorse. He encounters a grotesquely rotting corpse propped against a tree, and a column of wounded men, one of whom is a friend who dies horribly in front of him. Fleming receives his own "red badge" when a fellow soldier hits him in the head with a gun. "The idea of falling like heroes on ceremonial battlefields," Ford Madox Ford remarked later, "was gone forever." Shelby Foote, author of The Civil
The Modern Library has played a significant role in American cultural life for the better part of a century. The series was founded in 1917 by the publishers Boni and Liveright and eight years later acquired by Bennett Cerf and Donald Klopfer. It provided the foundation for their next publishing venture, Random House. The Modern Library has been a staple of the American book trade, providing readers with afford-
able hardbound editions of impor-
tant works of literature and thought. For the Modern Library's seventy-
fifth anniversary, Random House redesigned the series, restoring
as its emblem the running torch-
bearer created by Lucian Bernhard in 1925 and refurbishing jackets, bindings, and type, as well as inau-
gurating a new program of selecting titles. The Modern Library continues to provide the world's best books, at the best prices.
About the Author
Stephen Crane was born in Newark, NJ in 1871, the son of a Methodist minister. Before he reached twenty-five, Crane had made his mark on the American literary scene by writing two major works: Maggie: a Girl of the Streets (1893) and The Red Badge of Courage (1895). He failed a theme-writing course in college at the same time he was writing articles for newspapers, among them the New York Herald Tribune. Maggie, drawn from firsthand observations in the slums of New York, was praised and condemned for its sordid realism. By contrast, The Red Badge of Courage, also praised for its realism, was drawn entirely from newspaper accounts and research, as Crane himself never went to war. Crane's adventurous spirit drove him to Cuba in 1896, providing the experience for his most famous short story, The Open Boat, a tale of sufferings endured by Crane and his three companions aboard a lifeboat after their ship sank. He traveled to Greece as a correspondent, and returned to Cuba to cover the Spanish-American war. At the age of twenty-eight, in failing health, he traveled from England to Germany to recuperate in the healing atmosphere of the Black Forest. While working on a humorous novel, The O'Ruddy, he died in Germany of tuberculosis in June of 1900.


From the Paperback edition.
Praise For The Red Badge of Courage…
"The Red Badge Of Courage has long been considered the first great 'modern' novel of war by an American—the first novel of literary distinction to present war without heroics and this in a spirit of total irony and skepticism."—Alfred Kazin


From the Paperback edition.