Hell's Angels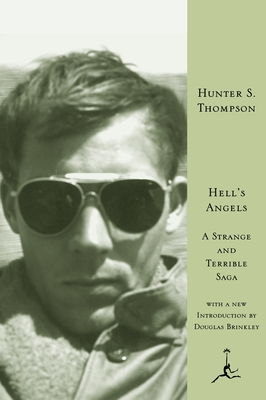 Hell's Angels
A Strange and Terrible Saga: A Strange and Terrible Saga
Modern Library, Hardcover, 9780679603313, 265pp.
Publication Date: December 7, 1999
* Individual store prices may vary.
Shop Local
Enter your zip code below to find indies closest to you.
Description
"California, Labor Day weekend . . . early, with ocean fog still in the streets, outlaw motorcyclists wearing chains, shades and greasy Levis roll out from damp garages, all-night diners and cast-off one-night pads in Frisco, Hollywood, Berdoo and East Oakland, heading for the Monterey peninsula, north of Big Sur. . . The Menace is loose again."  Thus begins Hunter S. Thompson's vivid account of his experiences with California's most no-torious motorcycle gang, the Hell's Angels.   In the mid-1960s, Thompson spent almost two years living with the controversial An-gels, cycling up and down the coast, reveling in the anarchic spirit of their clan, and, as befits their name, raising hell. His book successfully captures a singular moment in American history, when the biker lifestyle was first defined, and when such countercultural movements were electrifying and horrifying America. Thompson, the creator of Gonzo journalism, writes with his usual bravado, energy, and brutal honesty, and with a nuanced and incisive eye; as The New Yorker pointed out, "For all its uninhibited and sardonic humor, Thompson's book is a thoughtful piece of work." As illuminating now as when originally published in 1967, Hell's Angels is a gripping portrait, and the best account we have of the truth behind an American legend.
About the Author
Hunter S. Thompson was born and raised in Louisville, Kentucky. His books include "Hell's Angels", "Fear and Loathing at Rolling Stone", "Fear and Loathing on the Campaign Trail '72", "The Rum Diary", and "Better than Sex". He died in February 2005.

Douglas Brinkley is currently a Professor of History at Rice University and a Fellow at the James Baker III Institute of Public Policy. He has published several New York Times bestselling titles: The Wilderness Warrior (2009), The Reagan Diaries (2007), The Great Deluge (2006), The Boys of Pointe du Hoc (2005), Tour of Duty (2004), and Voices of Valor (2004, with Ronald J. Drez). The Great Deluge, a New York Times Notable Book of the Year, was the recipient of the Robert F. Kennedy Prize and a finalist for the Los Angeles Times Book Award. Dr. Brinkley has also taught at the U.S. Naval Academy, Princeton University, Tulane University (where he was also Director of the Roosevelt Center), and other institutions across the country. He is a contributing editor for Vanity Fair, the Los Angeles Times Book Review, and American Heritage, as well as a frequent contributor to the New York Times, The New Yorker, and the Atlantic. He lives in Austin and Houston, Texas.
Praise For Hell's Angels…
"Thompson has presented us with a close view of a world most of us would never encounter. His language is brilliant, his eye remarkable."
--The New York Times Book Review

"Superb and terrifying."    --Studs Terkel, Chicago Tribune