The Crisis of Islam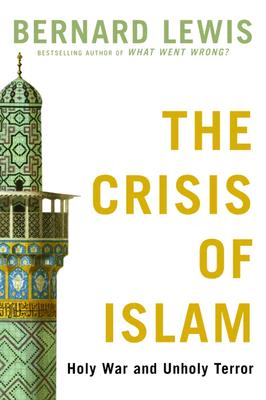 The Crisis of Islam
Holy War and Unholy Terror
Modern Library, Hardcover, 9780679642817, 224pp.
Publication Date: March 25, 2003
* Individual store prices may vary.
Not Currently Available for Direct Purchase
or
Shop Local
Enter your zip code below to purchase from an indie close to you.
Description
In his first book since What Went Wrong? Bernard Lewis examines the historical roots of the resentments that dominate the Islamic world today and that are increasingly being expressed in acts of terrorism. He looks at the theological origins of political Islam and takes us through the rise of militant Islam in Iran, Egypt, and Saudi Arabia, examining the impact of radical Wahhabi proselytizing, and Saudi oil money, on the rest of the Islamic world.

The Crisis of Islam ranges widely through thirteen centuries of history, but in particular it charts the key events of the twentieth century leading up to the violent confrontations of today: the creation of the state of Israel, the Cold War, the Iranian Revolution, the Soviet defeat in Afghanistan, the Gulf War, and the September 11th attacks on the United States.

While hostility toward the West has a long and varied history in the lands of Islam, its current concentration on America is new. So too is the cult of the suicide bomber. Brilliantly disentangling the crosscurrents of Middle Eastern history from the rhetoric of its manipulators, Bernard Lewis helps us understand the reasons for the increasingly dogmatic rejection of modernity by many in the Muslim world in favor of a return to a sacred past. Based on his George Polk Award–winning article for The New Yorker, The Crisis of Islam is essential reading for anyone who wants to know what Usama bin Ladin represents and why his murderous message resonates so widely in the Islamic world.
About the Author
Bernard Lewis is the Cleveland E. Dodge Professor of Near Eastern Studies Emeritus at Princeton University and the author of The Middle East: A Brief History of the Last 2,000 Years, a National Book Critics Circle Award finalist; The Emergence of Modern Turkey; The Arabs in History; and What Went Wrong?: Western Impact and Middle Eastern Response, among other books. Lewis is internationally recognized as one of our era's greatest historians of the Middle East. His books have been translated into more than twenty languages, including Arabic, Persian, Turkish, and Indonesian. He lives in Princeton, New Jersey.
Praise For The Crisis of Islam…
"Terrorism requires only a few. Obviously the West must defend itself by whatever means will be effective. But in devising means to fight the terrorists, it would surely be useful to understand the forces that drive them." —from the Introduction

"Remarkably succinct . . . It offers a long view in the midst of so much short-termism and confusing punditry. Lewis has done us all—Muslim and non-Muslim alike—a remarkable service." —The New York Times Book Review

"Inestimable . . . replete with the exceptional historical insight that one has come to expect from the world's foremost Islamic scholar." —The Wall Street Journal

"A timely and provocative contribution to the current raging debate about the tensions between the West and the Islamic world." —BusinessWeek

"No scholar of Islam in the Western world has more thoroughly earned the respect of generalists and academics alike than Bernard Lewis. . . . An excitingly knowledgeable antidote to today's natural sense of befuddlement. . . . History with electric immediacy." —Baltimore Sun