The Killer Angels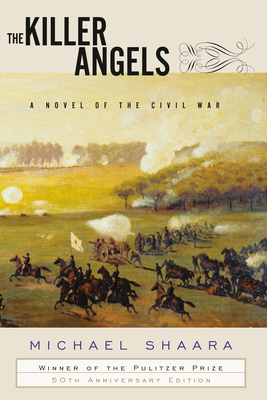 The Killer Angels
A Novel of the Civil War
Modern Library, Hardcover, 9780679643241, 368pp.
Publication Date: November 2, 2004
* Individual store prices may vary.
Buy at Local Store
Enter your zip code below to purchase from an indie close to you.
or
Buy Here
Description
A reissue of a Pulitzer prize-winning classic, and now the major motion picture GETTYSBURG. As a result of these acclamations, this book is considered one of the greatest novels written on the Civil War.
About the Author
Michael Shaara was teaching creative writing at Florida State University while writing The Rebel in Autumn. He'd already published most of his 44 short stories (mainly science fiction), and his first novel, The Broken Place, was published to great literary acclaim but few sales. Based on an event at Florida State, Rebel was written during the campus protests of the late 1960s. His agent began shopping the book in 1970, just a few short months before the Ohio National Guard shot into a crowd of student protesters at Kent State University, killing four, in an eerie echo of Rebel's climactic scene. And so the book never saw the light of day, although it is a beautifully written and artfully crafted novel. Shaara's next novel, The Killer Angels, won the Pulitzer Prize in 1975; it is a brilliant portrayal of the Battle of Gettysburg that was later made into the movie "Gettysburg" starring Jeff Daniels, Martin Sheen, Tom Berenger, and Sam Elliot among others. A heart attack killed Shaara in 1988 at the age of 59. His son, Jeff Shaara, has taken up where Michael Shaara left off with The Killer Angels, writing bestselling novels of the Civil War, Mexican War, WWI and WWII, enjoying the commercial success his father was never able to achieve.
Praise For The Killer Angels…
"The best and most realistic historical novel about war I have ever read."
–GENERAL H. NORMAN SCHWARZKOPF

"My favorite historical novel . . . A superb re-creation of the Battle of Gettysburg, but its real importance is its insight into what the war was about, and what it meant."
–JAMES M. MCPHERSON
Author of Battle Cry of Freedom

"Remarkable . . . A book that changed my life . . . I had never visited Gettysburg, knew almost nothing about that battle before I read the book, but here it all came alive."
–KEN BURNS
Filmmaker, The Civil War

"Shaara carries [the reader] swiftly and dramatically to a climax as exciting as if it were being heard for the first time."
–The Seattle Times