The Palm at the End of the Mind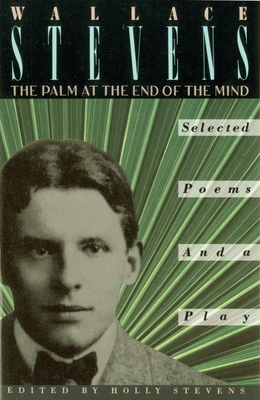 The Palm at the End of the Mind
Selected Poems and a Play
Vintage, Paperback, 9780679724452, 432pp.
Publication Date: February 19, 1990
* Individual store prices may vary.
Buy at Local Store
Enter your zip code below to purchase from an indie close to you.
or
Buy Here
Description
A collection that all the major long poems and sequences, and every shorter poem of lasting value in Stevens' career. Edited by Holly Stevens, it includes some poems not printed in his earlier Collected Works.
About the Author
Wallace Stevens was born in Reading, Pennsylvania, on October 2, 1879, and died in Hartford, Connecticut, on August 2, 1955.Although he had contributed to the Harvard Advocate while in college, he began to gain general recognition only when Harriet Monroe included four of his poems in a sepcial 1914 wartime issue of Poetry.Harmonium, his first volume of poems, was published in 1923, and was followed by Ideas of Order (1936), The Man with the Blue Guitar (1937), Parts of a World (1942), Transport to Summer (1947), The Auroras of Autumn (1950), The Necessary Angel (a volume of essays, 1951), The Collected Poems of Wallace Stevens (1954), and Opus Posthumous (first published in 1957, edited by Samuel Frued Morse; a new, revised, and corrected edition by Milton J. Bates, 1989).Mr. Stevens was awarded the Bollingen Prize in Poetry of the Yale University Library for 1949.In 1951 he won the National Book Award in Poetry for The Auroras of Autumn, in 1955 he won it a second time for The Collected Poems of Wallace Stevens, which was also awarded the Pulitzer Prize in Poetry in 1955.From 1916 on, he was associated with the Hartford Accident and Indemnity Company, of which he became vice president in 1934."
Praise For The Palm at the End of the Mind…
"The Palm at the End of the Mind, superbly edited by Holly Stevens, will be the definitive text for students and readers of Wallace Stevens for several decades. Unlike earlier selected volumes, it gives all the major long poems and sequences, and every shorter poem of lasting value. Its arrangement in probable order of composition clarifies the entire shape of Stevens development, particularly by its restoration of crucial late lyrics the poet simply forgot to include in the Collected Poems. Other major benefits given us by the volume include the convenience of having in one place the best of Collected Poems, Opus Posthumous, and the poems heretofore available only in The Necessary Angel. Add to this the powerful early poem 'For an Old Woman in a Wig', the play Bowl, Cat and Broomstick, the prose statement on the poetry of war, the restored lines of 'The Man Whose Pharynx Was Bad,' and a number of vital textual corrections throughout, and some sense of the enormous value of this book will be achieved. Here is the indispensable presentation of a central American poet, the best and most representative of our time."

-- Harold Bloom, Yale University