Lucy Gayheart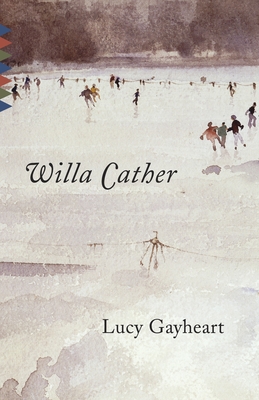 Lucy Gayheart
Reissue
Vintage, Paperback, 9780679728887, 208pp.
Publication Date: September 26, 1995
* Individual store prices may vary.
Buy at Local Store
Enter your zip code below to purchase from an indie close to you.
or
Buy Here
Description
"Some people's lives are affected by what happens to their person or their property, but for others fate is what happens to their feelings and their thoughts that and nothing more." In this haunting 1935 novel, the Pulitzer Prize winning author of My Antonia and Death Comes for the Archbishop performs a series of crystalline variations on the themes that preoccupy her greatest fiction: the impermanence of innocence, the opposition between prairie and city, provincial American values and world culture, and the grandeur, elation, and heartache that await a gifted young woman who leaves her small Nebraska town to pursue a life in art.At the age of eighteen, Lucy Gayheart heads for Chicago to study music. She is beautiful and impressionable and ardent, and these qualities attract the attention of Clement Sebastian, an aging but charismatic singer who exercises all the tragic, sinister fascination of a man who has renounced life only to turn back to seize it one last time. Out of their doomed love affair and Lucy's fatal estrangement from her origins Willa Cather creates a novel that is as achingly lovely as a Schubert sonata.
About the Author
Willa Cather was born on December 7, 1873, in Back Creek Valley, Virginia. Her father was a sheep farmer. When she was nine the family moved to Nebraska, eventually settling in the frontier village of Red Cloud. As a child Cather read voraciously, learning Greek and Latin from a neighbor, and displayed an early interest in science. At the University of Nebraska she immersed herself in literary studies and began writing stories and essays; following her graduation in 1895 she worked for some years as a journalist and schoolteacher, living part of the time in Pittsburgh and Washington, D.C. Willa Cather wurde am 7. Dezember 1873 in Back Creek Valley, Virginia geboren. Ihr Vater war ein Schafzuchter. Als sie neun war, zog ihre Familie nach Nebraska, letztendlich liess sie sich in einem Grenzdorf Red Cloud nieder. Als Kind lass Cather sehr viel, lernte Griechisch und Latein von ihrem Nachbarn und entfaltete ein fruhes wissenschaftliches Interesse. An der Universitat von Nebraska begann sie mit dem Literaturstudium und schrieb erste Geschichten und Essays; nach ihrem Abschluss 1895 arbeitete sie fur einige Jahre als Journalistin und Schullehrerin, sie lebte teilweise in Pittsburgh und teilweise in Washington, D.C."
Praise For Lucy Gayheart…
"The unity of Miss Cather's design, the clarity and distinction of this book, should put it beside her first great success, My Ántonia." —The Times Literary Supplement (London)