Death Comes for the Archbishop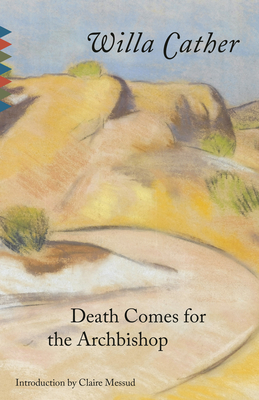 Death Comes for the Archbishop
Vintage Books USA, Paperback, 9780679728894, 304pp.
Publication Date: June 16, 1990
* Individual store prices may vary.
Buy at Local Store
Enter your zip code below to purchase from an indie close to you.
or
Buy Here
Description
Willa Cather's best known novel; a narrative that recounts a life lived simply in the silence of the southwestern desert.
About the Author
Willa Cather was probably born in Virginia in 1873, although her parents did not register the date, and it is probably incorrectly given on her tombstone. Because she is so famous for her Nebraska novels, many people assume she was born there, but Willa Cather was about nine years old when her family moved to a small Nebraska frontier town called Red Cloud that was populated by immigrant Swedes, Bohemians, Germans, Poles, Czechs, and Russians. The oldest of seven children, she was educated at home, studied Latin with aneighbor, and read the English classics in the evening. By the time she went to the University of Nebraska in 1891 where she began by wearing boy s clothes and cut her hair close to her head she had decided to be a writer. After graduation she worked for a Lincoln, Nebraska, newspaper, then moved to Pittsburgh and finally to New York City. There she joinedMcClure smagazine, a popular muckraking periodical that encouraged the writing of new young authors. After meeting the author Sarah Orne Jewett, she decided to quit journalism and devote herself full time to fiction. Her first novel, Alexander s Bridge, appeared in serial form inMcClure sin 1912. But her place in American literature was established with her first Nebraska novel, O Pioneers!, published in 1913, which was followed by her most famous pioneer novel, My Antonia, in 1918. In 1922 she won the Pulitzer Prize for one of her lesser-known books, One of Ours. Death Comes for the Archbishop(1927), her masterpiece, andShadows on the Rock(1931) also celebrated the pioneer spirit, but in the Southwest and French Canada. Her other novels includeThe Song of the Lark(1915), The Professor s House(1925), My Mortal Enemy(1926), andLucy Gayheart(1935). Willa Cather died in 1947. From the Hardcover edition."
Praise For Death Comes for the Archbishop…
"A truly remarkable book . . . Soaked through and through with atmosphere . . . From the riches of her imagination and sympathy Miss Cather has distilled a very rare piece of literature. It stands out, from the very resistance it opposes to classification."—NEW YORK TIMES"The most sensuous of writers, Willa Cather builds her imagined world as solidly as our five senses build the universe around us."—Rebecca West"[Cather's] descriptions of the Indian mesa towns on the rock are as beautiful, as unjudging, as lucid, as her descriptions of the Bishop's cathedral. It is an art of 'making,' of clear depiction—of separate objects, whose whole effect works slowly and mysteriously in the reader, and cannot be summed up . . . Cather's composed acceptance of mystery is a major, and rare, artistic achievement."—from the Introduction by A. S. Byatt