Close to the Knives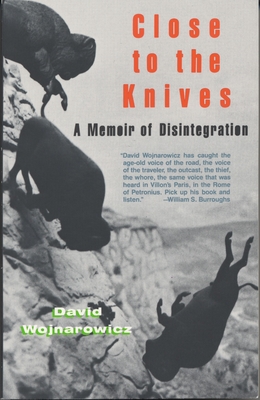 Close to the Knives
A Memoir of Disintegration
Vintage Books, Paperback, 9780679732273, 288pp.
Publication Date: May 7, 1991
* Individual store prices may vary.
Buy Now
or
Shop Local
Enter your zip code below to purchase from an indie close to you.
Description
In Close to the Knives, David Wojnarowicz gives us an important and timely document: a collection of creative essays -- a scathing, sexy, sublimely humorous and honest personal testimony to the "Fear of Diversity in America." From the author's violent childhood in suburbia to eventual homelessness on the streets and piers of New York City, to recognition as one of the most provocative artists of his generation -- Close to the Knives is his powerful and iconoclastic memoir. Street life, drugs, art and nature, family, AIDS, politics, friendship and acceptance: Wojnarowicz challenges us to examine our lives -- politically, socially, emotionally, and aesthetically.
About the Author
David Wojnarowicz was born in Red Bank, New Jersey, in 1954, and first gained notice in New York's East Village art scene in the 1970s. He rose to fame for his exceptional range, intelligence, and passion, and by the 1980s had become one of the most provocative artists of his generation. In the years before his death in 1992 from AIDS-related complications, he worked tirelessly as an AIDS activist and anticensorship advocate. In 1985, Wojnarowicz brought his fight for freedom of expression to the case of David Wojnarowicz v. American Family Association, in which Donald E. Wildmon claimed that Wojnarowicz's work was pornographic and undermined family values. Wojnarowicz won and was awarded a symbolic dollar. He was thrust back into the spotlight in 2010, at the center of a censorship battle over the National Portrait Gallery's exhibition "Hide/Seek: Difference and Desire in American Portraiture". In 2012, Cynthia Carr published the critically acclaimed biography "Fire in the Belly: The Life and Times of David Wojnarowicz".
Praise For Close to the Knives…
"David Wojnarowicz is brilliantly attuned to American talk and responsive to the moods and innovations of society's truants. He also has the best conscience of any writer I know. This fierce, erotic, haunting, truthful book should be given to every teenager immediately." -- Dennis Cooper

"Wojnarowicz's writing fairly smokes with acrid ironies. It's passionate and personal." -- New York

"Everyone should read Close to the Knives to understand the overall political agenda behind suffering, whether that suffering occurs because of a dysfunctional family, religion, or government. Wojnarowicz explores all of his painful life experiences as a plea for all of us to become more compassionate and caring human beings. This isn't just David's story, it's our story, our nation's story." -- Karen Finley