Means of Ascent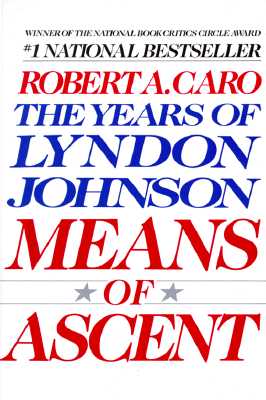 Means of Ascent
The Years of Lyndon Johnson II
Vintage, Paperback, 9780679733713, 592pp.
Publication Date: March 6, 1991
* Individual store prices may vary.
Buy at Local Store
Enter your zip code below to purchase from an indie close to you.
or
Buy Here
Description
Robert A. Caro's life of Lyndon Johnson, which began with the greatly acclaimed The Path to Power, also winner of the National Book Critics Circle Award, continues -- one of the richest, most intensive and most revealing examinations ever undertaken of an American President. In Means of Ascent the Pulitzer Prize-winning biographer/historian, chronicler also of Robert Moses in The Power Broker, carries Johnson through his service in World War II and the foundation of his long-concealed fortune and the facts behind the myths he created about it. But the explosive heart of the book is Caro's revelation of the true story of the fiercely contested 1948 senatorial election, for forty years shrouded in rumor, which Johnson had to win or face certain political death, and which he did win -- by "the 87 votes that changed history." Caro makes us witness to a momentous turning point in American politics: the tragic last stand of the old politics versus the new -- the politics of issue versus the politics of image, mass manipulation, money and electronic dazzle.
About the Author
Robert A. Caro has twice won the Pulitzer Prize, twice won the National Book Critics Circle Award, and has also won virtually every other major literary honor, including the National Book Award, the Gold Medal in Biography from the American Academy of Arts and Letters, and the Francis Parkman Prize, awarded by the Society of American Historians to the book that exemplifies the union of the historian and the artist. In 2010, President Obama presented him with the National Humanities Medal. Caro lives in New York City with his wife, Ina, an historian and writer.
Praise For Means of Ascent…
"Thrilling. Caro burns into the reader's imagination the story of the [1948 Senate] election. Never has it been told so dramatically, with breathtaking detail piled on incredible development . . . In The Path to Power, Volume I of his monumental biography, Robert A. Caro ignited a blowtorch whose bright flame illuminated Johnson's early career. In Means of Ascent he intensifies the flame to a brilliant blue point." --Christopher Lehmann-Haupt, New York Times

"Brilliant. No brief review does justice to the drama of the story Caro is telling, which is nothing less than how present-day politics was born." --Henry F. Graff, Professor of History, Columbia University

"Riveting . . . Explosive . . . Readers are in for a white-knuckle, hair-raising tale that could have ended in any of a dozen ways, with L.B.J. in the White House the longest shot of all. This is good history. Caro's treatment achieves poetic intensity." --Paul Gray, Time

"Caro has a unique place among American political biographers. He has become, in many ways, the standard by which his fellows are measured. Caro's diligence [and] ambition are phenomenal . . . A remarkable story . . . Epic." --Mark Feeney, Boston Sunday Globe

"Immensely engaging . . . Caro is an indefatigable investigative reporter and a skillful historian who can make the most abstract material come vibrantly to life. [He has a] marvelous ability to tell a story . . . His analysis of how power is used---to build highways and dams, to win elections, to get rich---is masterly." --Ronald Steel, New York Times Book Review

"Caro has changed the art of political biography." --Nicholas von Hoffman

"A spellbinding, hypnotic journey into the political life and times of Lyndon Johnson. Riveting drama." --Jim Finley, Los Angeles Times

"The most compelling study of American political power and corruption since Robert Penn Warren's All the King's Men.... It is nothing less than a political epic, the definitive account of a watershed election, rich with all of the intrigue and drama that have become the stuff of legend. [It has] the suspense of a political thriller." --Steve Neal, Fort Worth Star Telegram

"Magnificent . . . Thunder and lightning rip through Mr. Caro's viscerally compelling work."  --Thomas W. Hazlett, The Wall Street Journal

"His research is dazzlingly exhaustive, his gripping story is enhanced by excellent writing, and his findings [seem] largely irrefutable. No one has done a better job of researching [the 1948 race] than Mr. Caro. He has produced a portrait not only of Lyndon Johnson, but also of the politics and values of mid-century America." --Philip Seib, Dallas Morning News

"Robert Caro gives us an LBJ who was human and then some, and what's enthralling is how this lucid, fascinating book keeps forcing us to confront the extreme contradictions of what (on good days) we call human nature. It's a testament to Robert Caro's skill that we find it so difficult to get a firm moral fix on Johnson. Caro is that rare biographer who seems intrigued by his subject but happily free from the urge to either heroicize, psychologize—or excoriate and punish." --Francine Prose, 7 Days

"Means of Ascent is a political biography, a detective story, a western and a character study. Above all, it is a richly textured, multilayered chronicle of a fundamental social and political change and how this change highlighted elements of Mr. Johnson's character: his powerful needs, tremendous ambition and particular genius." --Robert A. Kronley, The Atlanta Journal-Constitution

"One can trust every detail. The sagaciousness and discretion of Caro's investigations are obvious from the start. The story of that election has all the excitement of a murder mystery in which the culprit is known, but the question is whether justice will triumph. Caro tells it with the same thriller instinct as the old novelists, yet with the passion for accuracy of the most exacting detective." --Denis Wadley, Minneapolis/St. Paul Star Tribune   

"A great book, and I believe the completed biography will be the great book about American politics in the twentieth century. The story of the '48 election is remarkable, unique. If it weren't a cliche, I'd say it has Tolstoyan epic grandeur." --Robert K. Massie

"Caro's writing summons a reviewer's cliches—gripping, compelling, absorbing, irresistible . . . unputdownable. The sentences sparkle. The details pile up in a mountain of evidence . . . Caro has at last set the record straight." --Richard Marius, Harvard Magazine

"A spellbinding political thriller . . . riveting." --Arthur Salm, San Diego Tribune

"Extraordinary and brilliant . . . Devastatingly persuasive . . . Caro's prodigious research, and his discovery of original sources ignored by other biographers, proves beyond doubt that much of what Johnson said about these years was false . . . The spadework combined with Caro's passion makes for drama more riveting than any novel." --Mark A. Gamin, Cleveland Plain Dealer

"We who are alive today are privileged to be present at the creation of what, when it is completed, may rank as the most riveting and disturbing American political biography of this century . . . Magnificently written." --Theodore M. O'Leary, Kansas City Star

"Caro is the premier biographer of our time." --Bernard D. Nossiter, The Progressive

"No one understands Lyndon Baines Johnson without reading Robert A. Caro." --James F. Vesely, Sacramento Union