The Pencil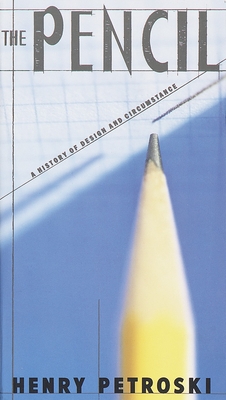 The Pencil
A History of Design and Circumstance
Knopf Publishing Group, Paperback, 9780679734154, 448pp.
Publication Date: November 10, 1992
* Individual store prices may vary.
Buy Now
or
Shop Local
Enter your zip code below to purchase from an indie close to you.
Description
Henry Petroski traces the origins of the pencil back to ancient Greece and Rome, writes factually and charmingly about its development over the centuries and around the world, and shows what the pencil can teach us about engineering and technology today.
About the Author
Henry Petroski is the Aleksandar S. Vesic Professor of Civil Engineering and a professor of history at Duke University. He has written broadly on the topics of design, success and failure, and the history of engineering and technology. His fifteen books on these subjects include To Engineer Is Human, The Pencil, The Evolution of Useful Things, Success through Failure and The Essential Engineer. In addition to his books, which have been translated into more than a dozen languages, Petroski has written numerous general-interest articles for publications including The New York Times, The Washington Post, the Los Angeles Times and The Wall Street Journal, and he writes regular columns for both American Scientist and ASEE Prism. Petroski is a distinguished member of the American Society of Civil Engineers and is a fellow of both the American Society of Mechanical Engineers and the Institution of Engineers of Ireland. He is an elected member of the American Academy of Arts and Sciences, the American Philosophical Society and the U.S. National Academy of Engineering.
Praise For The Pencil…
"Very engaging and wonderfully informative.... The Pencil unfolds a history of invention, craftsmanship, engineering, manufacture and business that is also at times a history of cultural life on both sides of the Atlantic...No reader of this book will ever be able to pick up a pencil again without marveling."

-- Hilton Kramer, Newsday

"So engrossing that I read it through in one sitting... An utterly absorbing history

-- Martin Gardner, Raleigh News and Observer

"Beguiling...surprising, entertaining, informative. One could scarcely ask a book to be more!... using the story of the pencil as a paradigm, Petroski shows how the process of engineering unfolds and [how] the pencil is the end result of process that parallels those by which products of much greater sophistication -- computers, for example -- are invented designed manufactured and improved."

-- Jonathan Yardley, Washington Post Book World

"A serious and charming history... Petroski argues his case with wry humor and an amplitude of anecdotage drawn from many centuries and continents. The Pencil is that great rarity, a book that will appeal to ordinary readers and yet seems destined as well to become a minor classic in academe."

-- Cullen Murphy, The Atlantic

"You will never feel the same about the pencil after you read this terrific book."

-- Larry King, USA Today