The Destructive War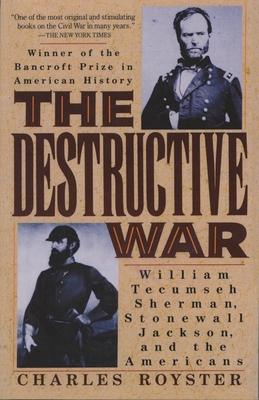 The Destructive War
William Tecumseh, Stonewall Jackson, and the Americans
Vintage, Paperback, 9780679738787, 564pp.
Publication Date: January 11, 1993
* Individual store prices may vary.
Buy Now
or
Shop Local
Enter your zip code below to purchase from an indie close to you.
Description
From the moment the Civil War began, partisans on both sides were calling not just for victory but for extermination. And both sides found leaders who would oblige. In this vivid and fearfully persuasive book, Charles Royster looks at William Tecumseh Sherman and Stonewall Jackson, the men who came to embody the apocalyptic passions of North and South, and re-creates their characters, their strategies, and the feelings they inspired in their countrymen. At once an incisive dual biography, hypnotically engrossing military history, and a cautionary examination of the American penchant for patriotic bloodshed, The Destructive War is a work of enormous power.
About the Author
Charles Royster, Boyd Professor of History at Louisiana State University, is the author of "The Fabulous History of the Dismal Swamp Company: A Story of George Washington's Times", "Light-Horse Harry Lee and the Legacy of the American Revolution" and "The Destructive War: William Tecumseh Sherman, Stonewall Jackson, and the Americans", which received the Bancroft Prize, the Lincoln Prize, and the Charles S. Sydnor Award in Southern History.
Praise For The Destructive War…
"Royster's intriguing analyses fill every page with new information and offer a fresh interpretation of our bloodiest conflict...exhaustively researched, artistically written, brilliantly argued."

-- Boston Globe



"Parts of The Destructive War are as good as anything written...during the last generation...a masterful narrative."

-- Washington Post Book World

"A fascinating history of the ideas held by the people who fought the war...fresh, intriguing, philosophical." -- Detroit Free Press

"An illuminating interpretation." -- Wall Street Journal

Winner of the Lincoln Prize