The Hand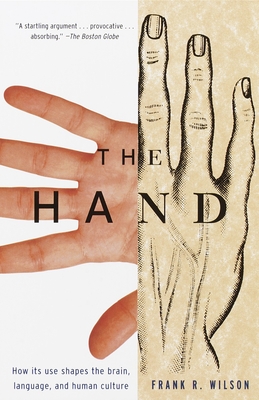 The Hand
How Its Use Shapes the Brain, Language, and Human Culture
Vintage Books, Paperback, 9780679740476, 416pp.
Publication Date: September 14, 1999
* Individual store prices may vary.
Buy at Local Store
Enter your zip code below to purchase from an indie close to you.
or
Buy Here
Description
"A startling argument . . . provocative . . . absorbing." --The Boston Globe

"Ambitious . . . arresting . . . celebrates the importance of hands to our lives today as well as to the history of our species."
--The New York Times Book Review

The human hand is a miracle of biomechanics, one of the most remarkable adaptations in the history of evolution. The hands of a concert pianist can elicit glorious sound and stir emotion; those of a surgeon can perform the most delicate operations; those of a rock climber allow him to scale a vertical mountain wall. Neurologist Frank R. Wilson makes the striking claim that it is because of the unique structure of the hand and its evolution in cooperation with the brain that Homo sapiens became the most intelligent, preeminent animal on the earth.
        In this fascinating book, Wilson moves from a discussion of the hand's evolution--and how its intimate communication with the brain affects such areas as neurology, psychology, and  linguistics--to provocative new ideas about human creativity and how best to nurture it. Like Oliver Sacks and Stephen Jay Gould, Wilson handles a daunting range of scientific knowledge with a surprising deftness and a profound curiosity about human possibility. Provocative, illuminating, and delightful to read, The Hand encourages us to think in new ways about one of our most taken-for-granted assets.

"A mark of the book's excellence [is that] it makes the reader aware of the wonder in trivial, everyday acts, and reveals the complexity behind the simplest manipulation." --The Washington Post
About the Author
Frank Wilson was an early contributor to the development of performing arts medicine in the United States and Europe in the 1980's. In 1986 he was a co-founder and neurologist for the Health Program for Performing Artists at the University of California, San Francisco, where his interest focused on impaired hand control in musicians. In 1989 he moved to the University of Dusseldorf in Germany, where he held a one-year fellowship as visiting professor of neurology and was the organizer of a research team studying focal hand dystonia in musicians.

Following his return to California in 1990, Dr. Wilson continued his work with performing artists; he began a trial of music-learning experiences for patients in the neurological rehabilitation program at Mt. Zion Hospital; and for two years he was the neurologist on a multidisciplinary team investigating upper extremity injuries among textile designers at the Levi Strauss Company in San Francisco. He became the medical director of the Health Program for Performing Artists in 1996, and in 2001 accepted an appointment as Clinical Professor of Neurology at Stanford University School of Medicine, joining a clinical research team at Stanford studying deep brain stimulation for patients with complex movement disorders.

Wilson's career-long interest in the neurology of human hand control is reflected in two books that explore the neurological and anthropological underpinnings of skilled hand use. The first, "Tone Deaf and All Thumbs?" was published by Viking-Penguin in 1986. The second, "The Hand: How Its Use Shapes the Brain, Language, and Human Culture, "was published by Pantheon Books in 1998 and was nominated that year for a Pulitzer Prize for non-fiction.

Since the publication of "The Hand, " he has presented his work and his ideas at national meetings of many professional organizations, and to a wide community of artists and educators who share the opinion that the human hand and brain are an anatomically and behaviorally integrated system - biology's not-so-secret formula for individual human intelligence, creativity, and autonomy.