Light Years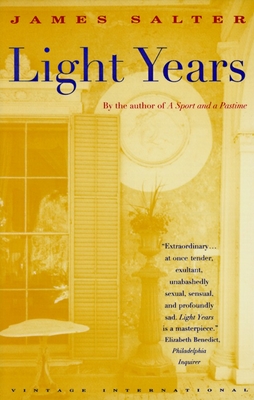 Light Years
Vintage, Paperback, 9780679740735, 320pp.
Publication Date: January 31, 1995
* Individual store prices may vary.
Buy Now
or
Shop Local
Enter your zip code below to purchase from an indie close to you.
Description
This exquisite, resonant novel by PEN/Faulkner winner James Salter is a brilliant portrait of a marriage by a contemporary American master. It is the story of Nedra and Viri, whose favored life is centered around dinners, ingenious games with their children, enviable friends, and near-perfect days passed skating on a frozen river or sunning on the beach. But even as he lingers over the surface of their marriage, Salter lets us see the fine cracks that are spreading through it, flaws that will eventually mar the lovely picture beyond repair. Seductive, witty, and elegantly nuanced, "Light Years" is a classic novel of an entire generation that discovered the limits of its own happiness and then felt compelled to destroy it.
About the Author
James Salter was the celebrated author of six novels ("The Hunters", 1957; "The Arm of Flesh", 1961; "A Sport and a Pastime", 1967; "Light Years", 1975; "Solo Faces", 1979; and "All That Is", 2013) and three books of stories ("Dusk and Other Stories", 1988; "Last Night", 2005; and "Collected Stories", 2013), as well a memoir, "Burning the Days" (1997). He also had a successful Hollywood career, most notably as the screenwriter of "Downhill Racer" (1969). Born in New Jersey in 1926 and raised in New York City, he attended West Point during World War II and served as an officer and a fighter pilot in the U.S. Air Force from 1945 to 1957. He drew on his combat experiences in Korea for his first two novels, though it was not until the controversial but now-classic A Sport and a Pastime that he considered that he had come close to measuring up to his own standards. He was a recipient of the 1989 PEN/Faulkner Award and the 2012 PEN/Malamud Award. He died in Sag Harbor, New York, in 2015.
Praise For Light Years…
"Extraordinary . . . at once tender, exultant, unabashedly sexual, sensual, and profoundly sad. Light Years is a masterpiece."
—Elizabeth Benedict, Philadelphia Inquirer
 
"Remarkable. . . . Salter celebrates the silver-and-golden bitterness of life. Light Years . . . becomes an unexpectedly moving ode to beautiful lives frayed by time."
—James Wolcott, Esquire
 
"[A] twentieth-century masterpiece. At once iridescent, lyrical, mystical and magnetic."
—Bloomsbury Review
 
"An absolutely beautiful, monstrous, important book."
—Joy Williams