A Fiery Peace in a Cold War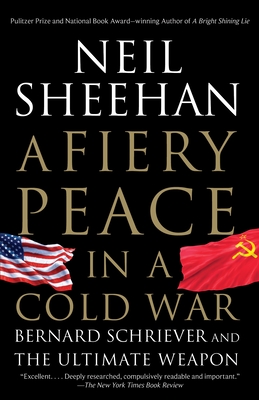 A Fiery Peace in a Cold War
Bernard Schriever and the Ultimate Weapon
Vintage Books USA, Paperback, 9780679745495, 534pp.
Publication Date: October 5, 2010
* Individual store prices may vary.
Buy at Local Store
Enter your zip code below to purchase from an indie close to you.
or
Not Currently Available for Direct Purchase
Description
In this long-awaited history, Neil Sheehan, winner of the Pulitzer Prize and the National Book Award, describes the US-Soviet arms race through the story of the colorful and visionary American Air Force officer, Bernard Schriever.
This never-before-told story details Schriever's quest to prevent the Soviet Union from acquiring nuclear superiority, and describes American efforts to develop the unstoppable nuclear-weapon delivery system, the intercontinental ballistic missle, the first weapons meant to deter an atomic holocaust rather than to be fired in anger. In this sweeping narrative, Sheehan brings to life a huge cast of some of the most intriguing characters of the cold war, including the brilliant physicist John Von Neumann, and the hawkish Air Force general, Curtis LeMay. Melding biography, history, world affairs, and science, A Fiery Peace in a Cold War transports the reader back and forth from individual drama to world stage.
About the Author
Neil Sheehan is the author of A Bright Shining Lie, which won the National Book Award and the Pulitzer Prize for nonfiction in 1989. He spent three years in Vietnam as a war correspondent for United Press International and The New York Times and won numerous awards for his reporting. In 1971, he obtained the Pentagon Papers, which brought the Times the Pulitzer Prize Gold Medal for meritorious public service. Sheehan lives in Washington, D.C. He is married to the writer Susan Sheehan.
Praise For A Fiery Peace in a Cold War…
"Excellent. . . . Deeply researched, compulsively readable and important."
—The New York Times Book Review

"An important contribution to our understanding of those decades when the U.S. and U.S.S.R. held each other—and the world—in a balance of terror. . . . Engrossing."
—Los Angeles Times

"Utterly riveting reading. . . . Schriever is a fascinating person, and Sheehan [is] to be commended for his careful gathering of interviews and documents to put flesh on this most unexpected warrior."
—San Francisco Chronicle

"Even more thoroughly researched, bristling with facts and figures and faces, than A Bright Shining Lie."
—San Antonio Express-News

"A deep look at American defensive thinking in the Cold War. . . . Sheehan's book is rich in cultural detail, beyond iconic moments of the Cold War as refracted through the lens of the missile race."
—Newsday

"An ambitious story. Sheehan tells it well."
—Dallas Morning News

"Absorbing. . . . Sheehan is a terrific reporter and an excellent writer, capable of weaving multiple storylines into a seamless narrative. . . . Unforgettable. . . . More than a worthy successor to A Bright Shining Light. . . . It is hard to imagine a more accomplished and informative exposé of the deep gears grinding in the engine room of the Cold War."
—The Oregonian

"A success story, in which the military, or a part of it anyway, instead of becoming mired in a folly of its own creation, prevailed over bureaucracy and incompetence and probably averted catastrophe."
—The New York Times

"Fascinating. . . . Sheehan's scope is vast, and the narrative proceeds with the measured beauty of a complex mathematical proof."
—GQ

"Neil Sheehan is a master of historical portraiture. His new book casts light on a critical but largely forgotten moment of the Cold War, with all the dazzling research and authority we have come to expect from him. Sheehan tells a fascinating story wonderfully vividly."
—Sir Max Hastings

"Schriever is a charismatic figure, and the supporting characters are fascinating, too."
—The New Yorker

"Schriever's part in the development of the ICBM is a story that needed to be told . . . and Sheehan tells it with enthusiasm."
—The Boston Globe

"Here, masterfully recounted, is the epic tale of the decisive scientific battle of the Cold War—for supremacy of the skies and space—told through the remarkable story of Air Force general Bennie Schriever. Once again, the legendary reporter Neil Sheehan has unearthed a hidden trove of the history of our time. . . . A stunning achievement."
—Carl Bernstein

"Sheehan does an excellent job of describing, in terms that a layman can follow, the technical challenges involved in developing an ICBM and how they were overcome."
—Michael Dobbs, The Washington Post

"A fascinating tale."
—The Times-Picayune (New Orleans)

"Neil Sheehan has triumphed again in this sweeping and absolutely fascinating book. . . . Sheehan takes on the epic tale of how science, the military, and politics became interwoven during the Cold War. It's a crucially important topic, but also a colorful narrative tale filled with memorable characters such as Bennie Schriever and the geniuses he enlisted in his cause."
—Walter Isaacson

"A story of many characters, and some of the major ones, such as mathematician John von Neumann and Gen. Curtis LeMay, are very colorful. . . . There is much to like in this book. . . . Sheehan's book helps make sense of things we know."
—Seattle Times

"In this amazing book, Neil Sheehan shows us how the grand movements of history turn on the character of individuals. A Fiery Peace in a Cold War is the gripping account of the events, largely hidden until now, that saved the Cold War from turning into Armageddon."
—Anthony Lewis