My Cousin, My Gastroenterologist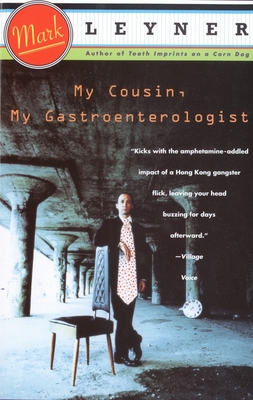 My Cousin, My Gastroenterologist
Vintage Books, Paperback, 9780679745792, 160pp.
Publication Date: May 1995
* Individual store prices may vary.
Buy Now
or
Shop Local
Enter your zip code below to purchase from an indie close to you.
Description
This book is fiction the brain can dance to, by one of the funniest and most subversive young writers of this or any other decade.

About the Author
Mark Leyner is the author of My Cousin, My Gastroenterologist; Tooth Imprints on a Corn Dog; I Smell Esther Williams; Et Tu Babe; and The Tetherballs of Bougainville. He has written scripts for a variety of films and television shows. His writing appears regularly in The New Yorker, Time, and GQ.
Praise For My Cousin, My Gastroenterologist…
"I really, really liked it. It's like nothing else. I laughed out loud in the bathroom." -- David Byrne

Welcome to Mark Leyner's America, where you can order gallium arsenide sushi at a roadside diner, get loaded on a cocktail of growth hormones and steroids, and support your habit by appearing on TV game shows. Welcome to a wildly post-Einsteinian fictional universe where the locals include a speech pathologist with a waterbug fetish, a kamikaze airline pilot, and the lead singer for Brazil's most notoriously nihilistic samba band.

My Cousin, My Gastroenterologist is fiction the brain can dance to, by one of the funniest and most subversive young writers of this or any other decade.

"Most current fiction is as well made and exciting as floral wallpaper; but here is a writer willing to decorate the room with the contents of his own dynamited head."

-- Entertainment Weekly

"Reading this is like fishing in some hallucinated lake of the subconscious. No telling what term, idea, or thing you'll pull up next."

-- Houston Post