The Great American Novel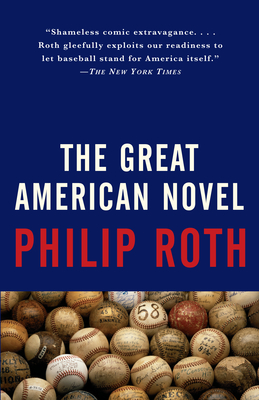 The Great American Novel
Vintage, Paperback, 9780679749066, 416pp.
Publication Date: April 1995
* Individual store prices may vary.
Shop Local
Enter your zip code below to find indies closest to you.
Description
Gil Gamesh, the only pitcher who ever literally tried to kill the umpire. The ex-con first baseman, John Baal, "The Babe Ruth of the Big House," who never hit a home run sober. If you've never heard of them—or of the Ruppert Mundys, the only homeless big-league ball team in American history—it's because of the Communist plot, and the capitalist scandal, that expunged the entire Patriot League from baseball memory.

In this ribald, richly imagined, and wickedly satiric novel, Roth turns baseball's status as national pastime and myth into an occasion for unfettered picaresque farce, replete with heroism and perfidy, ebullient wordplay and a cast of characters that includes the House Un-American Activities Committee.
About the Author
In 1997, Philip Roth won the Pulitzer Prize for AMERICAN PASTORAL. In 1998 he received the National Medal of Arts at the White House and in 2002 the highest award of the American Academy of Arts and Letters, the Gold Medal in Fiction, previously awarded to John Dos Passos, William Faulkner, and Saul Bellow, among others. He has twice won the National Book Award and the National Book Critics Circle Award. He has won the PEN/Faulkner Award three times. In 2005 THE PLOT AGAINST AMERICA received the Society of American Historians prize for the outstanding historical novel on an American theme for 2003-2004. Recently Roth received PEN s two most prestigious prizes: in 2006 the PEN/Nabokov Award and in 2007 the PEN/Saul Bellow Award for achievement in American fiction. Roth is the only living American writer to have his work published in a comprehensive, definitive edition by the Library of America.
Praise For The Great American Novel…
"Shameless comic extravagance.... Roth gleefully exploits our readiness to let baseball stand for America itself." —The New York Times

"Roth invents baseball anew, as pure slapstick.... An awesome performance." —The New Republic

"Roth is better than he's ever been before.... The prose is electric." —The Atlantic