Jack Maggs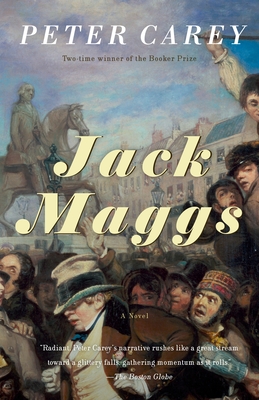 Jack Maggs
Vintage Books USA, Paperback, 9780679760375, 368pp.
Publication Date: February 22, 1999
* Individual store prices may vary.
Buy Now
or
Shop Local
Enter your zip code below to purchase from an indie close to you.
Description
The Booker Prize-winning author of Oscar and Lucinda returns to the nineteenth century in an utterly captivating mystery. The year is 1837 and a stranger is prowling London. He is Jack Maggs, an illegal returnee from the prison island of Australia. He has the demeanor of a savage and the skills of a hardened criminal, and he is risking his life on seeking vengeance and reconciliation.
Installing himself within the household of the genteel grocer Percy Buckle, Maggs soon attracts the attention of a cross section of London society. Saucy Mercy Larkin wants him for a mate. The writer Tobias Oates wants to possess his soul through hypnosis. But Maggs is obsessed with a plan of his own. And as all the various schemes converge, Maggs rises into the center, a dark looming figure, at once frightening, mysterious, and compelling. Not since Caleb Carr's The Alienist have the shadowy city streets of the nineteenth century lit up with such mystery and romance.
Praise For Jack Maggs…
"Radiant. Peter Carey's narrative rushes like a great stream toward a glittery falls, gathering momentum as it rolls."  
--The Boston Globe

"A rousing old-fashioned narrative. . . . [that] stands on its own as an adventure story." --The New York Times Book Review

"We have a great novelist living on the planet with us, and his name is Peter Carey."  --Los Angeles Times Book Review

"Imaginative and audacious . . . A twentieth-century, post-colonial Dickens novel . . . This strange, bold, gripping, and wonderful novel is the story of a power struggle, a double love story, a quest story, and a story of trickery and disguise. It's about taking possession--of an inheritance, of another person's soul, of your own destiny--and being taken possession of. Not least, it's the story of one writer's being possessed by another."
--Hermione Lee, The Observer

"Uncommonly exciting and engaging. As much as anyone now writing, Peter Carey is a master of storytelling. His empathy with his characters, combined with his psychological sharp-sightedness, has them almost jumping off the page in full human complexity. An especial bonus is his style . . . Vivid, exact, unexpected images and language match the quick, witty intelligence flickering through this novel, and make it a triumph of ebullient indictment, humane insight, and creative generosity."
--Peter Kemp, Sunday Times (London)

"Writing and philosophical contemplations of the highest order . . . On a par with, and more interesting than, his two earlier masterpieces . . . An absorbing, beautifully written novel finished off with a most satisfactory happy ending, and with incidents, an atmosphere, and ideas that linger in the mind."
--Carmen Callil, The Daily Telegraph