Virtual Unrealities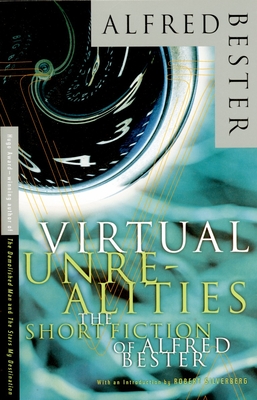 Virtual Unrealities
The Short Fiction of Alfred Bester
Vintage, Paperback, 9780679767831, 384pp.
Publication Date: November 11, 1997
* Individual store prices may vary.
Buy Now
or
Shop Local
Enter your zip code below to purchase from an indie close to you.
Description
"Dazzlement and enchantment are Bester's methods. His stories never stand still a moment."
Damon Knight, author of Why Do Birds
Alfred Bester took science fiction into hyperdrive, endowing it with a wit, speed, and narrative inventiveness that have inspired two generations of writers. And nowhere is Bester funnier, speedier, or more audacious than in these seventeen short stories two of them previously unpublished that have now been brought together in a single volume for the first time.
Read about the sweet-natured young man whose phenomenal good luck turns out to be disastrous for the rest of humanity. Find out why tourists are flocking to a hellish little town in a post-nuclear Kansas. Meet a warlock who practices on Park Avenue and whose potions comply with the Pure Food and Drug Act. Make a deal with the Devil but not without calling your agent. Dazzling, effervescent, sexy, and sardonic, Virtual Unrealities is a historic collection from one of science fiction's true pathbreakers.
"Alfred Bester was one of the handful of writers who invented modern science fiction. "
Harry Harrison.
About the Author
ALFRED BESTER was born in 1913. His fiction career included writing for the pulp magazines, comics, radio, and television. His extraordinary book, The Demolished Man, was the first winner of the Hugo Award for Best Novel and was followed by the brilliant novels The Stars My Destination, The Computer Connection, Golem100, and The Deceivers, and numerous short stories. Bester was honored by the Science Fiction & Fantasy Writers of America with a Grandmaster Award. He died in 1987.

Roger Zelazny (1937-1995) studied Elizabethan and Jacobean drama at Columbia University before bursting on to the science fiction scene while still in his mid-twenties. Among his many books are Four for Tomorrow, The Dream Master, A Rose for Ecclesiastes and the many titles in the Chronicle of Amber.

Keith R.A. DeCandido was born and raised in New York City to a family of librarians. He has written over two dozen novels, as well as short stories, nonfiction, eBooks, and comic books, most of them in various media universes, among them "Star Trek, World of Warcraft, Starcraft, Marvel Comics, Buffy the Vampire Slayer, Serenity, Resident Evil, Gene Roddenberry's Andromeda, Farscape, Xena, " and "Doctor Who". His original novel "Dragon Precinct" was published in 2004, and he's also edited several anthologies, among them the award-nominated "Imaginings" and two "Star Trek" anthologies. Keith is also a musician, having played percussion for the bands the Don't Quit Your Day Job Players, the Boogie Knights, and the Randy Bandits, as well as several solo acts. In what he laughingly calls his spare time, Keith follows the New York Yankees and practices "kenshikai" karate. He still lives in New York City with his girlfriend and two insane cats.