Her Dream of Dreams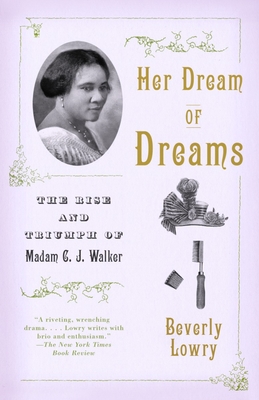 Her Dream of Dreams
The Rise and Triumph of Madam C. J. Walker
Vintage Books, Paperback, 9780679768036, 496pp.
Publication Date: May 11, 2004
* Individual store prices may vary.
Buy at Local Store
Enter your zip code below to purchase from an indie close to you.
or
Not Currently Available for Direct Purchase
Description
Madam C. J. Walker is an American rags-to-riches icon. Born to former slaves in Louisiana in 1867, she went on to become a prominent African American businesswoman and the first female self-made millionaire in U.S. history. The story of her transformation from a laundress to a tremendously successful entrepreneur is both inspirational and mysterious, as many of the details of her early life remain obscure. In this superior biography, Beverly Lowry's abundant research fleshes out Walker's thinly documented story and frames it in the roiling race relations of her day.

Walker grew up illiterate and worked as a washerwoman well into her thirties before staking her future on a "Wonderful Hair Grower." Defying all odds, Walker learned to read and write, mastered marketing and spin, and built a booming cosmetics empire that provided lucrative work for thousands of black women and allowed her to engage in philanthropy and civil rights activism until her death in a Westchester mansion in 1919. Spanning from the antebellum South to the Harlem Renaissance, Lowry brings this intriguing and important woman vividly to life.
About the Author
The author of six novels-and of Crossed Over, the story of her friendship with Karla Faye Tucker-Beverly Lowry is the director of the Creative Nonfiction Program at George Mason University. She lives in Washington, D.C.
Praise For Her Dream of Dreams…
"A riveting, wrenching drama…. Lowry writes with brio and enthusiasm." --The New York Times Book Review

"A joyous celebration.... an exuberant, truly sympathetic portrait of a fascinating woman." –San Francisco Chronicle

"Lowry, who has immense energy and a powerful and dramatic writing style, has done prodigious research. She paints a vivid and engrossing picture of the world Madam Walker emerged from and triumphed over." –Los Angeles Times Book Review

"Splendid. . . . A dramatic page-turner of a tale. . . . Utterly compelling." —New Orleans Times-Picayune

"A picture of an impulsive, generous, furtive, commanding, entrepreneurial person. . . . By book's end you can't help feeling that Madam Walker must have been a real corker to be around. . . . Thanks to Beverly Lowry, Madam C.J. Walker is with us again." –The Wall Street Journal

"[Lowry] brings a narrative approach to her portrayal of Walker, a novelist's recognition of the way a life, like a story, develops and arcs over time." –Los Angeles Times

"A three-dimensional portrait of the period that resurrects the ghosts of Walker's early years. . . . The depth of [Lowry's] research . . . gives the writing real solidity. . . . Her Dream of Dreams does everything a biography ought to–evoke a life, a personality–while pushing the form beyond its limits.'" –Newsday

"Beautifully written . . . puts the Horatio Alger story to shame. With crystal-clear prose, lively anecdotes and dutiful research Beverly Lowry tells how Walker, against all odds, became a pioneer businesswoman and civil rights activist extraordinaire. Lowry should be saluted for giving Walker the kind of grand historical recognition she deserves."–Douglas Brinkley, Director of the Eisenhower Center for American Studies and Professor of History at the University of New Orleans

"Highly evocative. . . A remarkable tale. . . . Because of Lowry's tireless, creative research, Madam C.J. Walker breathes–and inspires–once again." –The Plain Dealer

"Vivid. . . . [Lowry's] research is amazingly thorough." –Houston Chronicle

"Lowry has combined the skills of a novelist and the perseverance of a painstaking researcher to produce the most complete account yet of Walker's extraordinary rise from abject poverty . . . to fame and riches. Lowry invests her telling of Walker's story with a depth and breadth of social, political, and economic context that makes the African-American businesswoman's achievement seem all the more remarkable."–Fort Worth Star-Telegram

"Lively, literate. . . Impeccable research informs a prose that sings, whirls, and delights." –Kirkus Reviews