Losers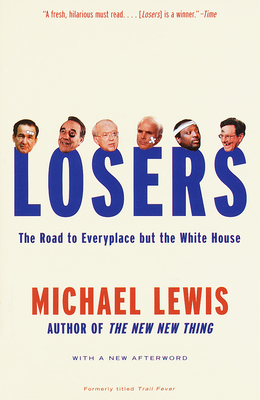 Losers
The Road to Everyplace But the White House
Vintage Books USA, Paperback, 9780679768098, 320pp.
Publication Date: July 1998
* Individual store prices may vary.
Buy Now
or
Shop Local
Enter your zip code below to purchase from an indie close to you.
Description
   Michael Lewis is a master at dissecting the absurd: after skewering Wall Street in his national bestseller Liar's Poker, he packed his mighty pen and set out on the 1996 campaign trail.  As he follows the men who aspire to the Oval Office, Lewis discovers an absurd mix of bravery and backpedaling, heroic possibility and mealy-mouthed sound bytes, and a process so ridiculous and unsavory that it leaves him wondering if everyone involved—from the journalists to the candidates to the people who voted—isn't ultimately a loser.

The contenders:

Pat Buchanan:  becomes the first politician ever to choose a black hat over a white one.

Phil Gramm: spends twenty million dollars to convince voters of his fiscal responsibility.

John McCain: makes the fatal mistake of actually speaking his mind.

Alan Keyes: checks out of a New Hampshire hotel and tells the manager another candidate will be paying his bill.

Steve Forbes: refuses to answer questions about his father's motorcycles.

Bob Dole: marches through the campaign without ever seeming to care.

   Losers is a wickedly funny, unflinching look at how America really goes about choosing a President.
About the Author
Michael Lewis grew up in New Orleans and has degrees from Princeton and the London School of Economics. Formerly a bond salesman with Salomon Brothers, he is the author of the runaway international bestseller, Liar's Poker. He holds an adjunct professorship at the University of California a " Berkeleya (TM)s journalism school and lives in Berkeley with his wife, Tabitha Soren.
Praise For Losers…
"A fresh, hilarious must read... [Losers] is a winner."- Time

"Hilarious, genuinely funny, and insightful, the work of a truly gifted writer."- The Wall Street Journal

"A great book... Hilarious, unsettling... [and] wonderfully observed."- Dave Eggers, Salon

"Unveils the pomposities and absurdities of spinning campaign life with wit and restraint, with a touch, in other words, that is all the more devastating for its lightness."- Newsday