Consilience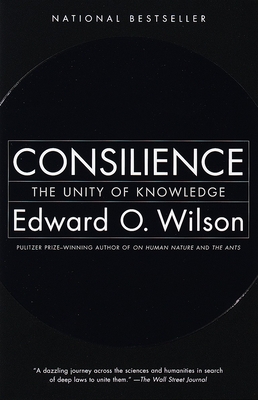 Consilience
The Unity of Knowledge
Vintage Books USA, Paperback, 9780679768678, 384pp.
Publication Date: March 30, 1999
* Individual store prices may vary.
Buy at Local Store
Enter your zip code below to purchase from an indie close to you.
or
Buy Here
Description
"A dazzling journey across the sciences and humanities in search of deep laws to unite them." --The Wall Street Journal
One of our greatest living scientists--and the winner of two Pulitzer Prizes for On Human Nature and The Ants--gives us a work of visionary importance that may be the crowning achievement of his career. In Consilience(a word that originally meant "jumping together"), Edward O. Wilson renews the Enlightenment's search for a unified theory of knowledge in disciplines that range from physics to biology, the social sciences and the humanities.
Using the natural sciences as his model, Wilson forges dramatic links between fields. He explores the chemistry of the mind and the genetic bases of culture. He postulates the biological principles underlying works of art from cave-drawings to Lolita. Presenting the latest findings in prose of wonderful clarity and oratorical eloquence, and synthesizing it into a dazzling whole, Consilience is science in the path-clearing traditions of Newton, Einstein, and Richard Feynman.
About the Author
Edward O. Wilson was born in Birmingham, Alabama in 1929. He received his B.S. and M.S. in biology from the University of Alabama and, in 1955, his Ph.D. in biology from Harvard, where he has since taught, and where he has received both of its college-wide teaching awards. He is currently Research Professor and Honorary Curator in Entomology of the Museum of Comparative Zoology at Harvard. He is the author of two Pulitzer Prize-winning books, OOn Human Nature (1978) and The Ants(1990, with Bert Holldobler), as well as the recipient of many fellowships, honors, and awards, including the 1977 National Medal of Science, the Crafoord Prize from the Royal Swedish Academy of Sciences (1990), the International Prize for Biology from Japan (1993), and, for his conservation efforts, the Gold Medal of the Worldwide Fund for Nature (1990) and the Audubon Medal of the National Audubon Society (1995). He is on the Board of Directors of The Nature Conservancy, Conservation International, and the American Museum of Natural History, and gives many lectures throughout the world. He lives in Lexington, Massachusetts with his wife, Irene."
Praise For Consilience…
"An original work of synthesis...a program of unrivalled ambition: to unify all the major branches of knowledge--sociology, economics, the arts and religion--under the banner of science." --The New York Times

"As elegant in its prose as it is rich in its ideas...a book of immense importance." --Atlanta Journal & Constitution

"Edward O. Wilson is a hero. . . he has made landmark scientific discoveries and has a writing style to die for. . . . A complex and nuanced argument." --Boston Globe

"One of the clearest and most dedicated popularizers of science since T. H. Huxley ...Mr. Wilson can do the science and the prose." --Time

"An excellent book. Wilson provides superb overviews of Western intellectual history and the current state of understanding in many academic disciplines." Slate

"The Renaissance scholar still lives.... A sensitive, wide-ranging mind discoursing beautifully.... Wilson's buoyant intellectual courage is bracing." --Seattle Weekly