The Bird Man and the Lap Dancer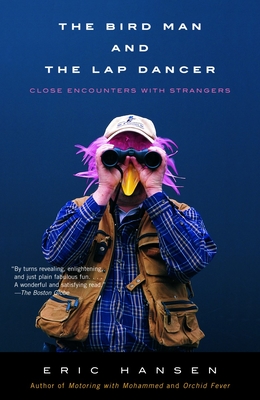 The Bird Man and the Lap Dancer
Close Encounters with Strangers
Vintage Books USA, Paperback, 9780679771821, 228pp.
Publication Date: October 18, 2005
* Individual store prices may vary.
Buy at Local Store
Enter your zip code below to purchase from an indie close to you.
or
Buy Here
Description
Eric Hansen survives a cyclone on a boat off the Australian coast, cradles a dying man in Calcutta, and drinks mind-altering kava in Vanuatu. He helps a widower search for his wife's wedding ring amid plane-crash wreckage in Borneo and accompanies topless dancers on a bird-watching expedition in California. From the Maldives to Sacramento, from Cannes to Washington Heights, Eric Hansen has a way of getting himself into the most sacred ceremonies and the most candid conversations.
About the Author
Eric Hansen has been reporting on college sports since 1993 and has won several national awards from the Football Writers Association of America. Hansen worked his way up to managing editor for the Irish Sports Report where he stayed for seven years. He now works as the beat writer for Notre Dame football and as an assistant sports editor for the South Bend Tribune. He currently lives in South Bend, Indiana.
Praise For The Bird Man and the Lap Dancer…
A San Francisco Chronicle Best Book of the Year

"Three decades spent crisscrossing the map . . . have honed in [Hansen] a meticulous knack for observations and the confidence to describe what he sees in both bold strokes and fine ones. One after another, remarkable figures leap from these pages vibrant and alive."
--San Francisco Chronicle

"The kind of exhilarating read that awakens your sense of wonder. . . . Eric Hansen has a lively curiosity, a good eye for detail and a swift, engaging prose style. When he travels, he doesn't merely observe but plunges fearlessly into the unknown." --The Washington Post

"Deft storytelling, flavorful prose, a canny gift for bringing characters alive on the page, a receptivity to all that is strange and unruly in our world--these traits make Hansen an extraordinarily pleasurable and eye-opening author to read." --The Seattle Times

"By turns revealing, enlightening, and just plain fabulous fun. . . . A wonderful and satisfying read." —The Boston Globe

"[There is] sheer lunatic joy to be found in these essays. . . . Hansen's curiosity, ability to meet people on their own terms and willingness to try just about anything make the experience fascinating. His gentle, straightforward prose and the fact that the reader truly never knows what will happen next make Bird Man rewarding reading." --The Miami Herald

"[An] inspired collection. . . . These are heartfelt reports from the road, told with simple eloquence and gentle humor."
--Seattle Post-Intelligencer

"In his range, his clarity, and his depth of understanding, Eric Hansen is the match of any travel essayist at work today. To travel well is a rare skill; to write about such travels as well as Hansen does is art. The Bird Man and the Lap Dancer does more than entertain--it informs and transports the reader in a way that is second only to the experience itself. That's the sign of a master. "
--Joe Kane, author of Savages

"A riot. . . . Hansen has done things worthy of awe and jealousy." --Entertainment Weekly

"The intrepid traveler can spin a good yarn, knowing how to go beyond the externals of exotic and not-so exotic locations to get to the heart and soul of a place. . . . Written with the lyricism, structure and knowing touches of a fine work of short fiction."
--San Jose Mercury News

"A real travel professional. . . . Hansen draws out-loud guffaws. . . . Unlike many world-wearied writers, Hansen avoids studied cynicism and forced sentimentality." --New York Times Book Reivew

"A fine journalist. . . . The way he . . . builds both tension and pathos, is so touching that the reader is drawn into the story. . . . He's so good at descriptions of place, the magic of travel, and the mystery at the edges of the world." --The Oregonian

"Eric Hansen a traveler's traveler--curious, imaginative, subtle, and brave. The Bird Man and Lap Dancer is the latest report from his life of adventure, told with typical style and verve.  It should be read, enjoyed, and passed among friends." --William Langewiesche, author of American Ground: Unbuilding the World Trade Center

"Moving. . . . Hansen writes [with] a resonance and psychological depth not usually seen in more routine travel narratives. . . . Each story combines nuanced portraits of memorable characters with lyrical descriptions of human fallibility and generosity . . . [that make] this heartfelt collection a magical and uplifting read." --The Economist

"Eric Hansen's lovely book of true-life adventures is a gift. Few writers aspire to such honesty, or manage it so engagingly. A compelling read." --Bill Barich, author of Laughing in the Hills

"Imagine the world of Joseph Conrad invaded by a real-life Rocky Horror Picture Show. But there's more to Hansen's stories than mere weirdness and wonder. Some of them are private memories, polished by time; others conceal parables. All are simply and beautifully told." --Tim Mackintosh-Smith, Yemen: The Unknown Arabia

"Each essay [is] more fantastic than the one before. . . . Hansen's world is not just a world of romantic adventure, but a world of complex human interaction that a less-perceptive writer would have not been able to bring home. . . . If you want to be totally entertained by an exotic and bizarre cast of really cool folks told in a clear and enjoyable style, get a copy of The Bird Man and the Lap Dancer. It's quite a trip." --Anniston Star