Hitler's Willing Executioners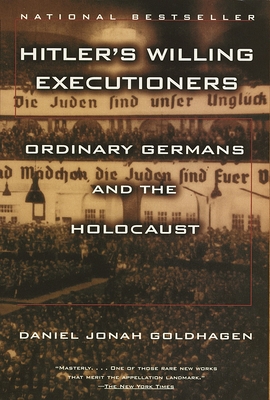 Hitler's Willing Executioners
Ordinary Germans and the Holocaust
Vintage Books, Paperback, 9780679772682, 656pp.
Publication Date: January 28, 1997
* Individual store prices may vary.
Buy at Local Store
Enter your zip code below to purchase from an indie close to you.
or
Buy Here
Description
This groundbreaking international bestseller lays to rest many myths about the Holocaust: that Germans were ignorant of the mass destruction of Jews, that the killers were all SS men, and that those who slaughtered Jews did so reluctantly. Hitler's Willing Executioners provides conclusive evidence that the extermination of European Jewry engaged the energies and enthusiasm of tens of thousands of ordinary Germans. Goldhagen reconstructs the climate of "eliminationist anti-Semitism" that made Hitler's pursuit of his genocidal goals possible and the radical persecution of the Jews during the 1930s popular. Drawing on a wealth of unused archival materials, principally the testimony of the killers themselves, Goldhagen takes us into the killing fields where Germans voluntarily hunted Jews like animals, tortured them wantonly, and then posed cheerfully for snapshots with their victims. From mobile killing units, to the camps, to the death marches, Goldhagen shows how ordinary Germans, nurtured in a society where Jews were seen as unalterable evil and dangerous, willingly followed their beliefs to their logical conclusion.



"Hitler's Willing Executioner's is an original, indeed brilliant contribution to the...literature on the Holocaust."--New York Review of Books


"The most important book ever published about the Holocaust...Eloquently written, meticulously documented, impassioned...A model of moral and scholarly integrity."--Philadelphia Inquirer
About the Author
Daniel Jonah Goldhagen, born 1959, grew up in the Boston area. He attended Harvard University where he received a BA in social studies and a masters and doctorate in political science. He subsequently was a political science professor at Harvard for many years, teaching courses on a range of subjects, including European politics, democracy, and genocide. In 1996 he published "Hitler's Willing Executioners: Ordinary Germans and the Holocaust," which led to more prolonged and heated discussion around the world than just about any book in memory. It was an international bestseller that instantly turned Goldhagen into an international public figure, whose views are eagerly sought on both sides of the Atlantic. It won him many accolades, including Germany's Democracy Prize, given only every three years, for his singular contribution to German democracy. The "laudatio" at the prize ceremony was delivered by perhaps Europe's most esteemed and influential intellectual and philosopher, Jurgen Habermas.
Shortly afterwards, he decided to devote himself full-time to writing, and was in the midst of composing a book on genocide in our age (forthcoming with Knopf), when he produced an essay on the Catholic Church and the Holocaust for the "New Republic," entitled, "What Would Jesus Have Done?" In writing it, he realized that some of the most crucial questions concerning the Holocaust and our public life more generally had been barely addressed, and certainly not answered properly, so he decided to temporarily put aside the book on genocide and write "A Moral Reckoning: The Role of the Catholic Church in the Holocaust and its unfulfilled Duty of Repair," Hugely anticipated here and in Europe (the"Los Angeles Times" wrote last spring, "Those inclined to handicap this fall's publishing season already are giving long odds that the year's most contoversial nonfiction book will be historian Daniel Jonah Goldhagen's "A Moral Reckoning,""), it is a book that the Church and the public will not be able to ignore. It has already induced the leading Cardinal of the German Catholic Church and the Archbishop of Vienna to respond in interviews in their country's major magazines.
"From the Hardcover edition."