The Civil War of 1812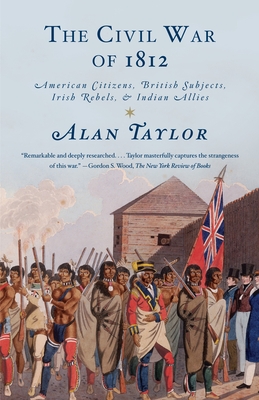 The Civil War of 1812
American Citizens, British Subjects, Irish Rebels, & Indian Allies
Vintage Books, Paperback, 9780679776734, 620pp.
Publication Date: October 4, 2011
* Individual store prices may vary.
Buy at Local Store
Enter your zip code below to purchase from an indie close to you.
or
Buy Here
Description
In this vivid narrative, Pulitzer Prize–winning historian Alan Taylor tells the riveting story of a war that redefined North America.
 
In the early nineteenth century, Britons and Americans renewed their struggle over the legacy of the American Revolution. In this second confrontation, soldiers, immigrants, settlers, and Indians fought to determine the fate of a continent. Would revolutionary republicanism sweep the British from Canada? Or would the British contain, divide, and ruin the shaky republic? Moving beyond national histories to examine the lives of common men and women, The Civil War of 1812 reveals an often brutal (sometimes comic) war and illuminates the tangled origins of the United States and Canada.
About the Author
Alan Taylor is professor of history at the University of California at Davis. He is the author of "William Cooper's Town: Power and Persuasion on the Frontier of the Early American Republic," which won the 1996 Pulitzer Prize for History and the Bancroft Prize in American history.
Eric Foner is DeWitt Clinton Professor of History at Columbia University. He has been awarded the Bancroft Prize, Parkman Prize, and a "Los Angeles Times" Book Award, among other honors.
Praise For The Civil War of 1812…
"Remarkable and deeply researched. . . . Taylor masterfully captures the strangeness of this war."
—Gordon S. Wood, The New York Review of Books

"Easily the most sophisticated book ever written about a conflict that is often either neglected or seriously misunderstood. . . . Taylor's discussions of diplomatic and political maneuvering are woven with military set-pieces into a powerful narrative. . . . [This] book affirms his gifts for prodigious research."
—The Wall Street Journal

"Credit Taylor with blowing most of the dust off America's most forgotten war. This is history with a capital H."
—The Seattle Times
 
"A truly spellbinding narrative. Unlike other books on the War of 1812, [Taylor's] is about the hearts and minds of the people who planned it, fought it and lived through it. Almost every page brings a revelation."
—The Toronto Star

"In this deeply researched and clearly written book, [Taylor] tells the riveting story of a war that redefined North America."
—The Washington Times
 
"Comprehensive. . . . Taylor's account of a land war that roughly divided people with a common culture and heritage provides a new dimension for an understanding of 1812."
—The Boston Globe
 
"An impressively accessible history. . . . A perceptively nuanced take on a war often forgotten or misunderstood. . . . Taylor offers persuasive arguments, a lively narrative."
—Richmond Times Dispatch
 
"Taylor gives a fascinating account of the war and shows its importance to the fragile new republic in a book filled with stories about the people who instigated, commanded and fought in the conflict."
—The Associated Press
 
"Taylor serves up a corrective in [this] fact-laden account. . . . Nicely captures the confusion of a 'minor' war with major consequences."
—­The Newark Star-Ledger
 
"Taylor's beautifully written book offers a War of 1812 that's no longer an insignificant afterthought to the American Revolution, but its final, decisive act."
—Maclean's
 
"As is his talented wont, Taylor puts the war into perspective, positing that it redefined the North American continent."
—Asbury Park Press (New Jersey)
 
"Thoroughly researched. . . . Taylor illuminates an arena generally omitted from military histories of the war. Battles and campaigns do connect his account, however, which will stand history collections in good stead for a very long while."
—Booklist