David Copperfield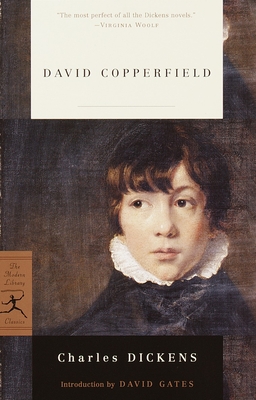 David Copperfield
Modern Library, Paperback, 9780679783411, 896pp.
Publication Date: November 28, 2000
* Individual store prices may vary.
Buy at Local Store
Enter your zip code below to purchase from an indie close to you.
or
Buy Here
Description
Hugely admired by Tolstoy, David Copperfield is the novel that draws most closely from Charles Dickens's own life. Its eponymous hero, orphaned as a boy, grows up to discover love and happiness, heartbreak and sorrow amid a cast of eccentrics, innocents, and villains. Praising Dickens's power of invention, Somerset Maugham wrote: "There were never such people as the Micawbers, Peggotty and Barkis, Traddles, Betsey Trotwood and Mr. Dick, Uriah Heep and his mother. They are fantastic inventions of Dickens's exultant imagination...you can never quite forget them."

This Modern Library Paperback Classics edition includes a new Introduction by Pulitzer Prize finalist David Gates, in addition to new explanatory notes.
About the Author
Arguably one of the greatest writers of the Victorian era, Charles Dickens is the author of such literary masterpieces as A Tale of Two Cities (1859), A Christmas Carol (1843), David Copperfield (1850), and The Adventures of Oliver Twist (1839), among many others. Dickens' s indelible characters and timeless stories continue to resonate with readers around the world more than 130 years after his death. Dickens was born in 1812 and died in 1870.

David Gates went to the Falklands at the age of 20 to become a teacher having had no experience or training in that profession. At that time (1968) not many people, including him, had heard of the islands. He had no idea of what awaited him. He spent three years travelling around that remote, windswept archipelago teaching, as he puts it, any children he could round up, teach them for two weeks and then go off somewhere else leaving enough homework to keep them occupied until his next visit. Most of the time he lived with the families of the children he taught. He travelled by horse, boat, floatplane, landrover and on foot. As a result he gained a unique insight into the place and its people.His previous work as a bank clerk in London's Fleet St., and as a civil servant working at The Ministry of Overseas Development prepared him only insofar as it bored him mindless enough to wish to go anywhere to get out of the rut he was in. Which was why, until he got his travel instructions, he believed he was going to somewhere off the north-west coast of Scotland and hadn't even bothered to look them up on a map.He says that the time he spent in the Falklands were the equivalent of a university education and National Service rolled into one. The experience, whilst testing, has made a lasting impression on him and his story of that time is a very personal and evocative memoir.
Praise For David Copperfield…
"The most perfect of all the Dickens novels."
--Virginia Woolf