Marvin Redpost #3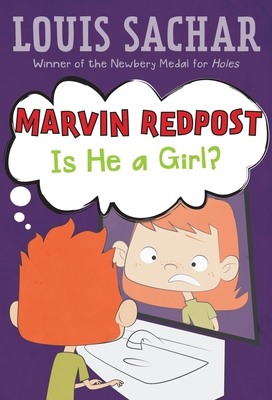 Marvin Redpost #3
Is He a Girl?
Random House Books for Young Readers, Paperback, 9780679819486, 96pp.
Publication Date: August 24, 1993
* Individual store prices may vary.
Buy Now
or
Shop Local
Enter your zip code below to purchase from an indie close to you.
Description
This chapter book in Newbery Honor winning and bestselling author Louis Sachar's Marvin Redpost series offers a sidesplitting take on the differences between girls and boys
When Casey Happleton tells Marvin that if you kiss your elbow you ll turn into a girl, Marvin doesn t believe it. Then Marvin kisses his elbow by accident and starts to feel very strange. He wants pigtails and starts dotting his i's with little hearts. Could Casey be right? Or is it all in Marvin's head? You decide
Hilarious and relatable, Marvin Redpost is perfect for kids who love to bond with quirky characters like George Brown, Class Clown and Junie B. Jones.
About the Author
When Louis Sachar was going to school, his teachers always pronounced his name wrong. Now that he has become a popular author of children s books, teachers all over the country are pronouncing his name wrong. It should be pronounced Sacker, like someone who tackles quarterbacks or someone who stuffs potatoes into sacks.
Mr. Sachar received a B.A. in economics from the University of California at Berkeley. His first book, Sideways Stories from Wayside School, was accepted for publication during his first year of law school. After receiving his law degree, he spent six years asking himself whether he wanted to be an author or a lawyer before deciding to write for children full-time. His books include Wayside School Gets a Little Stranger, There s a Boy in the Girls Bathroom, Wayside School is Falling Down, Dogs Don t Tell Jokes, and the Marvin Redpost series.
Louis Sachar lives in Austin, Texas, with his wife and their daughter, Sherre.
Barbara J. Sullivan, a certified master gardener, lives in Wilmington, North Carolina, where she is a garden consultant and speaker and a garden commentator on public radio. She is also an attorney-mediator and arbitrator.
Born and bred in the red deserts of Utah, Adam Record started doodling on a padded bench in church. Eventually, someone bought one of his drawings, which made him want to draw more. So he continued to draw and paint and doodle and now he works as a professional illustrator. Adam is inspired by old children's books and vintage posters, and he likes the smell of cement after it rains.
Praise For Marvin Redpost #3…
"Kids will love the frankness about grade school gender wars and social taboos."--Booklist.