The Children's Book of Virtues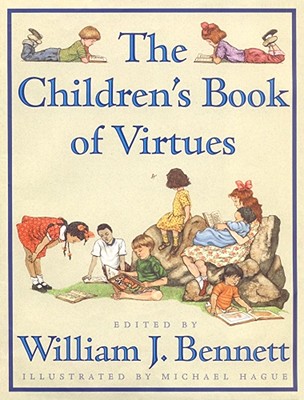 The Children's Book of Virtues
Simon & Schuster, Hardcover, 9780684813530, 112pp.
Publication Date: October 10, 1995
* Individual store prices may vary.
Buy Now
or
Shop Local
Enter your zip code below to purchase from an indie close to you.
Description
The perfect companion to William J. Bennett's number-one bestseller; The Book of Virtues, The Children's Book of Virtues is the ideal storybook for parents and children to enjoy together:


With selections from The Book of Virtues, from Aesop and Robert Frost to George Washington's life as well as Native American and African folklore, The Children's Book of Virtues brings together timeless stories and poems from around the world.


The stories have been chosen especially for a young audience to help parents introduce to their children the essentials of good character: Courage, Perseverance, Responsibility, Work, Self-discipline, Compassion, Faith, Honesty, Loyalty, and Friendship.


Lavishly illustrated by the well-known artist Michael Hague, these wonderful stories and the virtues they illustrate come to life on these pages.

The Children's Book of Virtues is an enduring treasury of literature and art that will help lead young minds toward what is noble and gentle and fine.
About the Author
William J. Bennett served as Director of the Office of National Drug Control Policy under President George H. W. Bush and as Secretary of Education and Chairman of the National Endowment for the Humanities under President Reagan. He holds a bachelor of arts degree in philosophy from Williams College, a doctorate in political philosophy from the University of Texas, and a law degree from Harvard. He is the author of such bestselling books as "The Educated Child", "The Death of Outrage", "The Book of Virtues", and the two-volume series "America: The Last Best Hope". Dr. Bennett is the host of the nationally syndicated radio show "Bill Bennett's Morning in America". He is also the Washington Fellow of the Claremont Institute and a regular contributor to CNN. He, his wife, Elayne, and their two sons, John and Joseph, live in Maryland.

Michael Hague has illustrated some of the best-loved works of children's literature, including "The Velveteen Rabbit, ""The Wizard of Oz", and "The Teddy Bears' Picnic". His lush, detailed watercolors have earned him a dedicated following and a reputation as one of America's foremost illustrators of books for children. He lives with his wife, Kathleen, in Colorado Springs, Colorado.