That Hideous Strength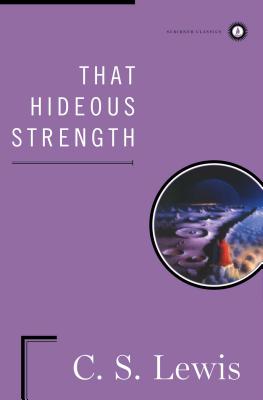 That Hideous Strength
Scribner Book Company, Hardcover, 9780684833675, 384pp.
Publication Date: October 1, 1996
* Individual store prices may vary.
Buy at Local Store
Enter your zip code below to purchase from an indie close to you.
or
Buy Here
Description
Written during the dark hours immediately before and during the Second World War, C. S. Lewis's Space Trilogy, of which That Hideous Strength is the third volume, stands alongside such works as Albert Camus's The Plague and George Orwell's 1984 as a timely parable that has become timeless, beloved by succeeding generations as much for the sheer wonder of its storytelling as for the significance of its moral concerns. For the trilogy's central figure, C. S. Lewis created perhaps the most memorable character of his career, the brilliant, clear-eyed, and fiercely brave philologist Dr. Elwin Ransom. Appropriately, Lewis modeled Dr. Ransom on his dear friend J. R. R. Tolkien, for in the scope of its imaginative achievement and the totality of its vision of not one but two imaginary worlds, the Space Trilogy is rivaled in this century only by Tolkien's trilogy The Lord of the Rings. Readers who fall in love with Lewis's fantasy series The Chronicles of Narnia as children unfailingly cherish his Space Trilogy as adults; it, too, brings to life strange and magical realms in which epic battles are fought between the forces of light and those of darkness. But in the many layers of its allegory, and the sophistication and piercing brilliance of its insights into the human condition, it occupies a place among the English language's most extraordinary works for any age, and for all time.


In That Hideous Strength, the final installment of the Space Trilogy, the dark forces that have been repulsed in Out of the Silent Planet and Perelandra are massed for an assault on the planet Earth itself. Word is on the wind that the mighty wizard Merlin has come back to the land of the living after many centuries, holding the key to ultimate power for the force that can find him and bend him to its will. A sinister technocratic organization that is gaining force throughout England, N.I.C.E. (the National Institute of Coordinated Experiments), secretly controlled by humanity's mortal enemies, plans to use Merlin in their plot to "recondition" society. Dr. Ransom forms a countervailing group, Logres, in opposition, and the two groups struggle to a climactic resolution that brings the Space Trilogy to a magnificent, crashing close.
About the Author
Clive Staples Lewis (1898-1963) was one of the intellectual giants of the twentieth century and arguably one of the most influential writers of his day. He was a Fellow and Tutor in English Literature at Oxford University until 1954, when he was unanimously elected to the Chair of Medieval and Renaissance Literature at Cambridge University, a position he held until his retirement. He wrote more than thirty books, allowing him to reach a vast audience, and his works continue to attract thousands of new readers every year. His most distinguished and popular accomplishments include Out of the Silent Planet, The Great Divorce, The Screwtape Letters, and the universally acknowledged classics The Chronicles of Narnia. To date, the Narnia books have sold over 100 million copies and have been transformed into three major motion pictures.
Clive Staples Lewis (1898-1963) fue uno de los intelectuales mas importantes del siglo veinte y podria decirse que fue el escritor cristiano mas influyente de su tiempo. Fue profesor particular de literatura inglesa y miembro de la junta de gobierno en la Universidad Oxford hasta 1954, cuando fue nombrado profesor de literatura medieval y renacentista en la Universidad Cambridge, cargo que desempeno hasta que se jubilo. Sus contribuciones a la critica literaria, literatura infantil, literatura fantastica y teologia popular le trajeron fama y aclamacion a nivel internacional. C. S. Lewis escribio mas de treinta libros, lo cual le permitio alcanzar una enorme audiencia, y sus obras aun atraen a miles de nuevos lectores cada ano. Sus mas distinguidas y populares obras incluyen Las Cronicas de Narnia, Los Cuatro Amores, Cartas del Diablo a Su Sobrino y Mero Cristianismo.
Praise For That Hideous Strength…
The New Yorker


If wit and wisdom, style and scholarship are requisites to passage through the pearly gates, Mr. Lewis will be among the angels.


Los Angeles Times


Lewis, perhaps more than any other twentieth-century writer, forced those who listened to him and read his works to come to terms with their own philosophical presuppositions.