Green Hills of Africa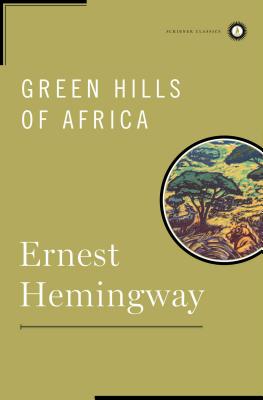 Green Hills of Africa
Scribner Book Company, Hardcover, 9780684844633, 208pp.
Publication Date: April 15, 1998
* Individual store prices may vary.
Buy at Local Store
Enter your zip code below to purchase from an indie close to you.
or
Not Currently Available for Direct Purchase
Description
"There are some things which cannot be learned quickly, and time, which is all we have, must be paid heavily for their acquiring. They are the very simplest things, and because it takes a man's life to know them the little new that each man gets from life is very costly and the only heritage he has to leave."


-- ERNEST HEMINGWAY



In the winter of 1933, Ernest Hemingway and his wife Pauline set out on a two-month safari in the big-game country of East Africa, camping out on the great Serengeti Plain at the foot of magnificent Mount Kilimanjaro. "I had quite a trip," the author told his friend Philip Percival, with characteristic understatement.

Green Hills of Africa is Hemingway's account of that expedition, of what it taught him about Africa and himself. Richly evocative of the region's natural beauty, tremendously alive to its character, culture, and customs, and pregnant with a hard-won wisdom gained from the extraordinary situations it describes, it is widely held to be one of the twentieth century's classic travelogues.
About the Author
Ernest Hemingway was one of America s foremost journalists and authors. A winner of both the Pulitzer Prize (1953) and the Nobel Prize for Literature (1954), Hemingway is widely credited with driving a fundamental shift in prose writing in the early twentieth century. As an American expatriate in Paris in the 1920s, Ernest Hemingway achieved international fame with such literary works as The Sun Also Rises, The Old Man and the Sea, and For Whom the Bell Tolls, which depicts his experience as a correspondent during the Spanish Civil War. Hemingway died in 1961, leaving behind a rich literary legacy.