The Figs Table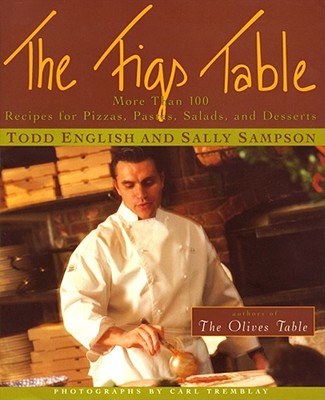 The Figs Table
Figs Table
Simon & Schuster, Hardcover, 9780684852645, 240pp.
Publication Date: November 11, 1998
* Individual store prices may vary.
Buy at Local Store
Enter your zip code below to purchase from an indie close to you.
or
Not Currently Available for Direct Purchase
Description
"Never trust a round pizza"
-- Todd English
Todd English, the renowned chef who brought you "The Olives Table, " shares his savory, innovative, Mediterranean-inspired food in this collection of more than 100 home-tested recipes from his award-winning restaurant Figs. At Figs, which was voted Best Italian Restaurant by "USA Today" and cited by "Boston" magazine and "Zagat's" as having the best pizza in Boston, there's something for everyone in the family, from Macaroni Simoni for the kids, to Portobello Mushrooms, Mushroom Puree, and Fontina Cheese Pizza for more sophisticated palates. And no one will turn down a taste of the White-Chocolate Challah Pudding with Caramel Sauce.
Everyone loves pizza, and at Figs, pizza is the main attraction. But that's not all you'll find in these pages. "The Figs Table" showcases Todd English's trademark style: layering flavors to create bold and soulful food, now available to the home cook. Fennel Watermelon, and Black Olive Salad with Feta Cheese makes a refreshing starter on a hot summer day, while the flavors of Roasted, Fried Pear Quarters with Frisee, Prosciutto, and Balsamic Glaze warm a cool autumn evening. Mushroom Minestrone or Black Bean Chill is filling enough to make a meal. Couscous Carbonara with Country Ham is a new twist on an old favorite; Spaghetti with Hazelnuts and Green Beans makes a simple but elegant supper. And why not try Creamy Cheddar and Spinach Polenta or the Asparagus Butter Risotto with Shrimp as a change from pasta? And of course, there's the pizza: White Bean Hummus and Asiago; Fig and Prosciutto; Clam; Spicy Shrimp Pizza with Caramelized Leeks and Tomato Sauce; Classico; even Kielbasa, Sauerkraut, and Potato Pizza with Dijon Mustard Aloli. And for just a taste of something sweet, try a Cranberry Pecan Biscotti, a slice of Torta Caprese, or the Tiramisu that "The Boston Phoenix" called "the best in town."
Simple or complex, sweet or savory, any dish from "The Figs Table" makes any meal special.
About the Author
Sally Sampson is the founder of "ChopChop" magazine and the author and coauthor of numerous cookbooks, including the James Beard Award-nominated "The $50 Dinner Party, Throw Me a Bone" (with Cooper Gillespie), and "The Olives Table" (with Todd English). She has contributed to "Self, Bon App""e""tit, Food & Wine, The Atlantic, The Boston Globe, "and "The Boston Phoenix." She lives with her family in Watertown, Massachusetts.

Sally Sampson is the author of The Bake Sale Cookbook and The $50 Dinner Party, and co-author of several books, including The Olives Table, The Figs Table, and The Olives Dessert Table with Todd English. She also co-wrote The Occidental Tourist with acclaimed Boston chef Stan Frankenthaler. She is a senior writer for Cook s Illustrated and has been a contributor to Bon Appetit, Food & Wine, Fine Cooking, Self, The Boston Globe, Boston Magazine, Mode, and Microsoft s online magazine Boston Sidewalk. Sampson has appeared on The Early Show and QVC.
Sampson lives with her family in Watertown, Massachusetts.