Dead Reckoning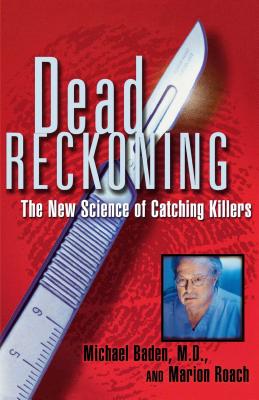 Dead Reckoning
The New Science of Catching Killers
Simon & Schuster, Paperback, 9780684852713, 288pp.
Publication Date: September 4, 2002
* Individual store prices may vary.
Buy at Local Store
Enter your zip code below to purchase from an indie close to you.
or
Buy Here
Description
For most people, the forensic sciences are something reported on the news when a crime is solved through DNA evidence, or used as a plot twist for television shows. But behind the crime-scene tape and the doors of the morgue is a world never seen by the public. Now famed pathologist and medical examiner Dr. Michael Baden and award-winning writer Marion Roach take readers into the laboratory, above the autopsy table, onto the witness stand and out in the field to show how advances in forensic science can solve crucial questions in a criminal case, often with startling accuracy.


Baden and Roach reveal how a key clue to the killer of Nicole Brown Simpson was lost when her body was moved to the morgue, and why the JonBenet Ramsey case can never be solved. They show how no clue is too small to be analyzed and no case too old to be reopened. Full of behind-the-scenes drama and surprising revelations, Dead Reckoning is a fascinating look at how forensic science is changing the way we convict the guilty and free the innocent.
About the Author
Michael Baden, M.D., is one of America's leading forensic experts. He has overseen cases ranging from the death of John Belushi to the examination of the remains of Tsar Nicholas II and has served as an expert witness in countless criminal cases, including the trials of Claus von Bulow and O. J. Simpson. He has been a consulting forensic pathologist to the U.S. Department of Justice, the U.S. Department of Veterans Affairs, the FBI, and the Russian government, as well as a visiting professor at John Jay College of Criminal Justice, Albert Einstein School of Medicine, and Albany Medical College.
Linda Kenney has won dozens of civil rights lawsuits and has appeared as a guest legal commentator on Court TV, CNN, and MSNBC.
They live in New York City with their dog, Mycroft.
"From the Hardcover edition."
Marion Roach is the author of "Another Name for Madness," a memoir of her family's struggle with her mother's Alzheimer's disease, and the coauthor of "Dead Reckoning: The New Science of Catching Killers," A commentator on National Public Radio's "All Things Considered," she has been published in the" New York Times Magazine," "Prevention," "Vogue," "Newsday," "Good Housekeeping, Discover,"" "and "American Health," She lives with her family in upstate New York and teaches a memoir course at the Arts Center of the Capital Region.