The Bible Unearthed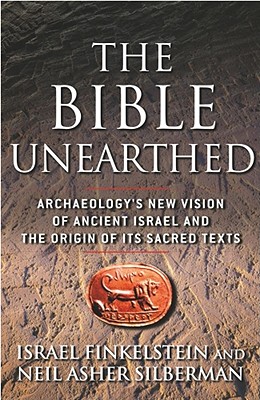 The Bible Unearthed
Archaeology's New Vision of Ancient Israel and the Origin of Its Sacred Texts
Free Press, Paperback, 9780684869131, 400pp.
Publication Date: June 11, 2002
* Individual store prices may vary.
Buy Now
or
Shop Local
Enter your zip code below to purchase from an indie close to you.
Description
In this groundbreaking work that sets apart fact and legend, authors Finkelstein and Silberman use significant archeological discoveries to provide historical information about biblical Israel and its neighbors.
In this iconoclastic and provocative work, leading scholars Israel Finkelstein and Neil Asher Silberman draw on recent archaeological research to present a dramatically revised portrait of ancient Israel and its neighbors. They argue that crucial evidence (or a telling lack of evidence) at digs in Israel, Egypt, Jordan, and Lebanon suggests that many of the most famous stories in the Bible the wanderings of the patriarchs, the Exodus from Egypt, Joshua's conquest of Canaan, and David and Solomon's vast empire reflect the world of the later authors rather than actual historical facts.
Challenging the fundamentalist readings of the scriptures and marshaling the latest archaeological evidence to support its new vision of ancient Israel, "The Bible Unearthed" offers a fascinating and controversial perspective on when and why the Bible was written and why it possesses such great spiritual and emotional power today.
About the Author
Israel Finkelstein is a professor of archaeology at Tel Aviv University. He is a leading figure in the archaeology of the Levant and the laureate of the 2005 Dan David Prize in the Past Dimension -- Archaeology. Finkelstein served for many years as the Director of the Institute of Archaeology at Tel Aviv University and is the co-Director of the Megiddo Expedition. He is the co-author, with Neil Silberman, of "The Bible Unearthed" (Free Press, 2001) and the author of many field reports and scholarly articles.

"Archaeology," the world' s leading magazine on popular archaeology, is read by hundreds of thousands of enthusiasts and experts everywhere. An official publication of the Archaeological Institute of America, "Archaeology" had brought the latest and greatest news and discoveries to readers for sixty years.
Neil Asher Silberman is a historian with the Ename Center for Public Archaeology in Belgium. His most recent book, with Israel Finkelstein, is "David and Solomon: In Search of the Bible' s Sacred Kings and the Roots of the Western Tradition,"
Praise For The Bible Unearthed…
Baruch Halpern
author of The First Historians: The Hebrew Bible and History

The boldest and most exhilarating synthesis of the Bible and archaeology in fifty years.


John Shelby Spong
author of Here I Stand: My Struggle for a Christianity of Integrity, Love, and Equality

A bold and provocative book, well researched, well written, and powerfully argued. It challenges many of the assumptions developed by the literal religious minds of the ages, opening traditional possibilities to new conclusions.


Jonathan Kirsch
Los Angeles Times

A brutally honest assessment of what archaeology can and cannot tell us about the historical accuracy of the Bible...presented with both authority and panache.