Tales of King Arthur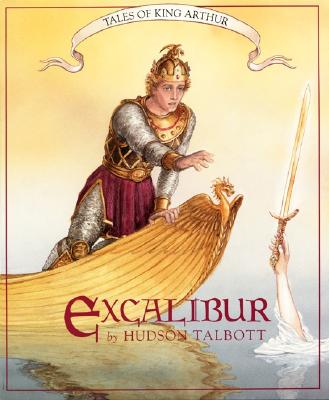 Tales of King Arthur
Excalibur
HarperCollins, Hardcover, 9780688133801, 48pp.
Publication Date: September 27, 1996
* Individual store prices may vary.
Not Currently Available for Direct Purchase
or
Shop Local
Enter your zip code below to purchase from an indie close to you.
Description
When the young Arthur pulled the sword from the stone and became High King of all Britain, he didn't realize that an even greater task lay ahead: that of uniting his country behind him. Wielding the great Pendragon sword, Arthur leads his men to victory in the Battle of Bedegraine. Afterward, his knights disperse in pursuit of individual glory and Arthur stays behind, listening wistfully to the older knights' tales of daring and heroism. All the time he wonders, Why can't I go questing as they have?
But soon he does discover a quest of his own, and despite the warnings of his adviser, Merlin, he sets out to challenge the rebellious warrior King Pellinore in a fight that could prove to be his downfall.
In this third volume of his Tales of King Arthur series, Hudson Talbott continues the thrilling story of the young king begun in The Sword in the Stone and King Arthur and the Round Table, showing Arthur's struggles to become a king not only in name but to the depths of his being.
Exciting scenes from the days of chivalry and heroism burst from every page, from Arthur's encounter with Pellinore to his meeting with the mysterious Lady of the Lake, guardian of the splendid sword Excalibur. Hudson Talbott's masterful storytelling and dramatic paintings will enthrall fans of his previous books and win many new ones besides.
About the Author
In His Own Words...
"Children's book authors have to be among the luckiest people in the world. Not only am I paid to do what I love most, but I get to do it without having to grow up. More accurately, the seven-year-old I Hudson is no longer relegated to an ever-receding file in the memory bank hut is once again out-front, fully engaged, sometimes even calling the shots in an active collaboration with Lis adult counterpart.
"I'll always be grateful for the solid, all-American upbringing I was given in the suburbs of Louisville, Kentucky, but going to school in Rome was a revelation for me. After graduating from Tyler School of Art in Rome, I extended my education by wandering through Europe, settling in Amsterdam for a few years, and then moving to Hong Kong, where I dabbled in the fashion industry. My travels eventually continued through Southeast Asia and culminated with four magical months in Bali. I finally reached New York, fulfilling a childhood ambition, in 1974. Although my original intent was to become a painter, the free-lance illustration work I picked tip to support myself soon predominated as my primary art form. Pursuing my vision in this direction eventually led to writing and illustrating children's books. I had always told stories with pictures. I began to paint with words.
"My series of picture books on the Arthurian legends represents the most ambitious and challenging opportunity that I've ever accepted. Called the central myth of Western civilization by philosopher Joseph Campbell, the Arthurian legends have been evolving over a 1,500 year period, along the way gathering tip and expressing our concepts of love, honor, and courage. Only within the last century have they taken the form of adventure novels for younger readers, and I know of no other attempt to compile the entire cycle into a series of picture books until now. The sheer scale of the material-the vast array of characters and the complexity of their relationships-is beyond Dickens or even "Days of Our Lives."
"The curious occurrence that I've experienced as I've delved deeper through the layers of allegory in my research is that as the underlying truth is revealed to me, I'm not only learning something new about the fine art of storytelling but usually something about myself as well. The first three books, for example, are about Arthur coming into his greatness. In the first book it is thrust upon him by accident of his birth, and in the second he achieves it through his own actions. Finally, in the third, he comes to realize the greatness inherent within himself, as it is within all of us. It is the kind of greatness that finds expression when we finally accept ourselves and embrace the roles open to us in lifewhether it is that of king, gardener, parent, or children's book author.
"My gratitude is boundless for all those who have Supported my creative progress and believed in me long before I believed in myself. By recognizing that writing and illustrating books for young readers is, in fact, my calling, I can serve a greater purpose than fulfilling my own needs. I am reminded of what I heard a blues singer once say: "Talent is God's gift to you. What you do with it is your gift to Him."