Wayside School Gets a Little Stranger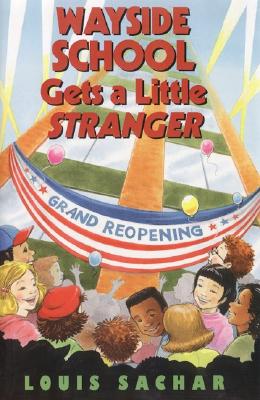 Wayside School Gets a Little Stranger
HarperCollins, Hardcover, 9780688136949, 176pp.
Publication Date: April 27, 1995
* Individual store prices may vary.
Buy at Local Store
Enter your zip code below to purchase from an indie close to you.
or
Buy Here
Description
Strange Strangers Come to Wayside School . . .
Welcome back to Wayside School! After closing for 242 days to get rid of the cows (don't ask), everyone's favorite thirty-story school is finally back in session.
But all is not well at the school with no nineteenth floor. Mrs. Jewls, the best teacher at Wayside, is having a baby, and that can mean only one thing -- substitute teachers.
First comes Mr. Gorf. Was he married to the terrible Mrs. Gorf? And why does he have three nostrils? The kids won't tell you. They're not talking.
Then there's Mrs. Drazil. She never forgets a missed homework assignment, not even one that Louis the yard teacher owed her fifteen years ago.
By the time the class gets the fearsome Miss Nogard, the kids can't wait for everything to return to normal.
Wayside School may seem like a pretty strange place already, but now it has to get a little stranger.
About the Author
When Louis Sachar was going to school, his teachers always pronounced his name wrong. Now that he has become a popular author of children s books, teachers all over the country are pronouncing his name wrong. It should be pronounced Sacker, like someone who tackles quarterbacks or someone who stuffs potatoes into sacks.
Mr. Sachar received a B.A. in economics from the University of California at Berkeley. His first book, Sideways Stories from Wayside School, was accepted for publication during his first year of law school. After receiving his law degree, he spent six years asking himself whether he wanted to be an author or a lawyer before deciding to write for children full-time. His books include Wayside School Gets a Little Stranger, There s a Boy in the Girls Bathroom, Wayside School is Falling Down, Dogs Don t Tell Jokes, and the Marvin Redpost series.
Louis Sachar lives in Austin, Texas, with his wife and their daughter, Sherre.
Marissa Moss is the creator of the bestselling and perenially popular AMELIA series. She lives with her family in Berkeley, California.
Alice and Joel Schick have been creating entertainment with multi-generational appeal for more than thirty years. Much of their work reflects their interest and delight in animals. They have always shared their home with multiple cats and dogs. Their company, Gorilla Productions, Inc., and their website, FamilyGorilla.com, are named for a favorite species.