Fiesta!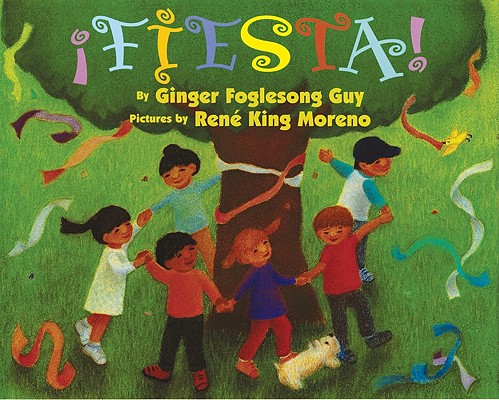 Fiesta!
Greenwillow Books, Hardcover, 9780688143312, 32pp.
Publication Date: August 1996
* Individual store prices may vary.
Shop Local
Enter your zip code below to find indies closest to you.
Description
¡Una canasta! One basket to fill. ¡Tres niños! Three children to shop. ¡Un mercado! One market full of vendors!
Horns, airplanes, and tops. Whistles, gum, and rings. What toys should the children choose? How many candies will they buy?
And what will they do with all the things they buy? Open el libro to find out and to count with them -- in English and in Spanish. It's easy.
About the Author
Ginger Foglesong Guy lives in Seattle, Washington. She grew up in Mexico, Arizona, Switzerland, and Costa Rica. She is also the author of the bilingual books Fiesta! and Siesta.
Ginger Foglesong Guy es la autora de numerosos libros bilingues, entre ellos, los favoritos Fiesta! and Siesta!, asi como el companero de este libro, My School/Mi Escuela, tambien ilustrado por Vivi Escriva. Ginger crecio en Mexico, Arizona, Suiza, y Costa Rica. Ahora vive en el estado de Washington.
Dr. Short is a division director at the Center for Applied Linguistics (CAL) in Washington, D.C. She has worked as a teacher, trainer, researcher, and curriculum/materials developer. Her work at CAL has concentrated on the integration of language learning with content-area instruction. Through several national projects, she has conducted research and provided professional development and technical assistance to local and state education agencies across the United States. She directed the ESL Standards and Assessment Project for TESOL and co-developed the SIOP model for sheltered instruction.
Dr. Tinajero specializes in staff development and school-university partnership programs and has consulted with school districts in the U.S. to design ESL, bilingual, literacy, and bi-literacy programs. She has served on state and national advisory committees for standards development, including the English as a New Language Advisory Panel of the National Board of Professional Teaching Standards and the Texas Reading Academies. She is currently professor of Education and Interim Dean of the College of Education at the University of Texas at El Paso and was President of the National Association for Bilingual Education, 1997-2000.