Blues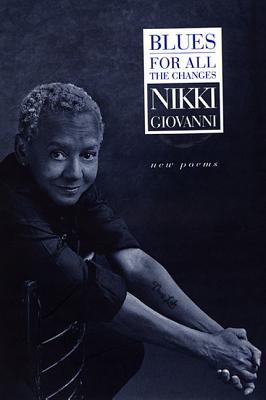 Blues
For All the Changes: New Poems
William Morrow & Company, Hardcover, 9780688156985, 100pp.
Publication Date: April 21, 1999
* Individual store prices may vary.
Buy Now
or
Shop Local
Enter your zip code below to purchase from an indie close to you.
Description
Intimate, edgy, and unapologetic, Blues: For All the Changes bears the mark of Nikki Giovanni's unmistakable voice.In a career that has spanned three decades, Giovanni has created an indispensable body of work and earned a place amoung the nation's most celebrated and controversial poets; Gloria Naylor calls her "one of our national treasures." Now, in these fifty-two new poems, Giovanni brings the passion, fearless wit, and intensely personal self that have defined her life's work to a new front.
Invoking the fates and exalting the rhythm of the everyday, Giovanni writes with might and majesty. From the environment to our reliance on manners, from sex and politics to love among Black folk, Blues is a masterwork with poems for every soul and every mood: The poignant "Stealing Home" pays tribute to Jackie Robinson, while "Road Rage Blues" jams on time and space; Giovanni celebrates love's absolut power in "Train Rides" and laments life's trasience in "Me and Mrs. Robin." With the tenderness that has made her on of our most accessible and beloved poets, Giovanni evokes a world that is not only just but also happy. Her powerful stand engages the world with a truth telling that is as eloquent as it is elegant.
Intimate, edgy, and unapologetic,
Blues For All the Changes
bears the mark of Nikki Giovanni's unmistakable voice. At once political and intensely personal, this long-awaited volume embodies the fearless passion and wit that have made Nikki Giovanni one of our most accessible poets; her audience defies all boundaries of race, class, age, and style.
From the poignant "Stealing Home," Ms. Giovanni's tribute to Jackie Robinson, to the defiant "Road Rage Blues," a jam on time and space, these fifty-one poems challenge the fates and invoke the precarious state of our environment, Giovanni's battle with illness, manners, and other topics seminal to one of our most compassionate, outspoken observers.
With a reverence for the power of language, Blues For All the Changes will once again enchant Nikki Giovanni's extensive following and inspire those who are newly discovering her work.
About the Author
Nikki Giovanni, poet, activist, mother, and professor, is a seven-time NAACP Image Award winner and the first recipient of the Rosa Parks Woman of Courage Award, and holds the Langston Hughes Medal for Outstanding Poetry, among many other honors. The author of twenty-eight books and a Grammy nominee for The Nikki Giovanni Poetry Collection, she is the University Distinguished Professor of English at Virginia Tech in Blacksburg, Virginia.